Aaj Dhaner Khete Lyrics (আজ ধানের ক্ষেতে) | Rabindra Sangeet | Sharate Aaj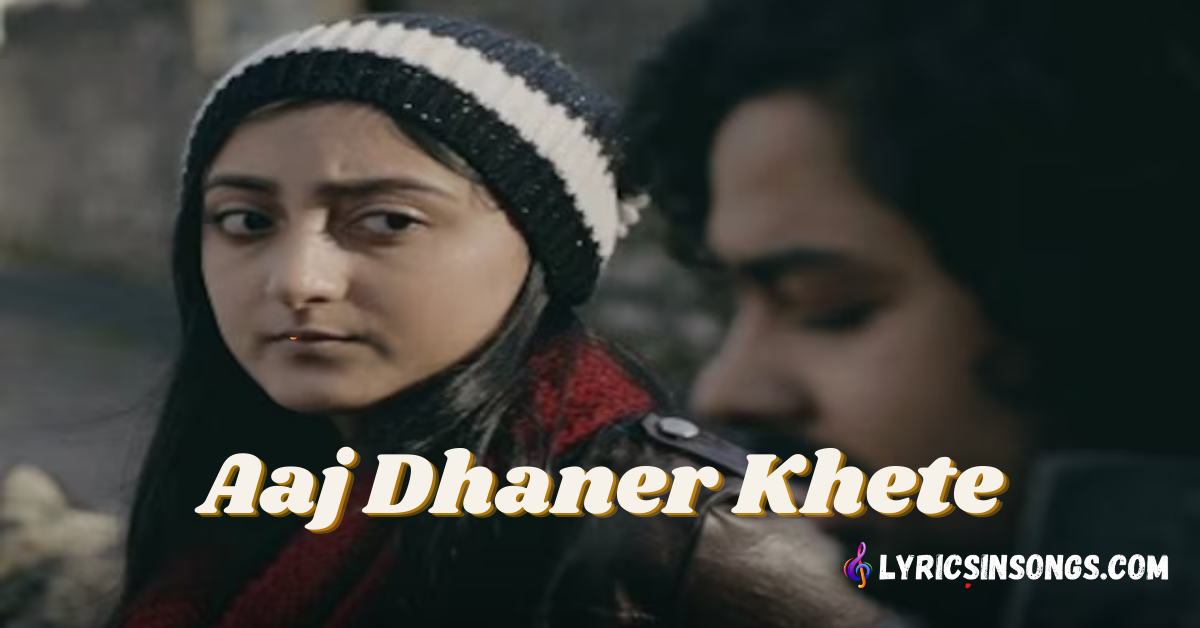 Aaj Dhaner Khete Khete Lyrics
আজ ধানের ক্ষেতে রৌদ্রছায়ায়
লুকোচুরি খেলা রে ভাই, লুকোচুরি খেলা।
নীল আকাশে কে ভাসালে
সাদা মেঘের ভেলা রে ভাই, লুকোচুরি খেলা।
আজ ধানের ক্ষেতে রৌদ্রছায়ায়
লুকোচুরি খেলা রে ভাই, লুকোচুরি খেলা।

আজ ভ্রমর ভোলে মধু খেতে
উড়ে বেড়ায় আলোয় মেতে..
আজ কিসের তরে নদীর চরে
চখা-চখীর মেলা।
নীল আকাশে কে ভাসালে
সাদা মেঘের ভেলা রে ভাই, লুকোচুরি খেলা।
আজ ধানের ক্ষেতে রৌদ্রছায়ায়
লুকোচুরি খেলা রে ভাই, লুকোচুরি খেলা।

ওরে যাবো না আজ ঘরে রে ভাই,
যাবো না আজ ঘরে।
ওরে, আকাশ ভেঙে বাহিরকে আজ
নেবো রে লুট করে
যাবো না আজ ঘরে।

যেন জোয়ার-জলে ফেনার রাশি
বাতাসে আজ ছুটছে হাসি..
আজ বিনা কাজে বাজিয়ে বাঁশি
কাটবে সকল বেলা।
নীল আকাশে কে ভাসালে
সাদা মেঘের ভেলা রে ভাই, লুকোচুরি খেলা।
আজ ধানের ক্ষেতে রৌদ্রছায়ায়
লুকোচুরি খেলা রে ভাই, লুকোচুরি খেলা।
Meaning of the song Aaj Dhaner Khete (আজ ধানের ক্ষেতে)
The lyrics of the song's title "Aaj Dhaner Khete" simply translates to "Today in the Paddy Fields." The beautiful fields of golden rice, the delight of the farmers who worked hard to cultivate the crops and the sense of pride that comes with a good harvest are all depicted in the song's lyrics.
Aaji Dhaner Khete is a song that honours the abundance and beauty of nature, particularly the rice fields. It speaks of the endless stretches of golden rice fields and the laborious farming work that goes into planting, caring for, and harvesting the crops. In addition to expressing the joy and celebration of the harvest season, the song also includes images of people singing and dancing in the fields.
The song celebrates the divine presence that enabled the harvest, which gives it a spiritual element. The goddess Durga, who is revered during the Durga Puja holiday and is regarded as the origin of all life and fertility, is frequently mentioned in the lyrics. The song "Aaj Dhaner Khete" honours the majesty and wealth of nature as well as the labour and dedication of those who care for the land. It is ultimately a joyful and encouraging song. It is a popular song in Bengal and is commonly sung there during harvest festivals and other cultural gatherings.
About the Author of the Song Aaj Dhaner Khete (আজ ধানের ক্ষেতে)
The Bengali song "Aaji Dhaner Khete" was written by Rabindranath Tagore. The song may be heard in the online series "Sharate Aaj," which is based on Dui Bon (Two Sisters). by Tagore. The song is beautifully performed in the web series "Sharate Aaj," which properly captures the mood and concept of the situation. this song is Sung by  Surangana Bandyopadhyay in the  in the bengali online series "Sharate Aaj," . It is a classic that has and will continue to inspire generations of Bengalis with its celebration of nature and the human spirit.
Bengali polymath, poet, philosopher, and artist Rabindranath Tagore lived from 1861 to 1941. For his collection of poems, "Gitanjali," he became the first non-European to win the Nobel Prize in Literature in 1913. In addition to addressing social and political challenges, Tagore's writings praised spirituality and humanism. He was also a patriot and a social reformer.
These are some various versions and adaptations of his songs on platform like YouTube. These are some links off the songs that have been provided here :