Ghum Ghum Chand Lyrics | ঘুম ঘুম চাঁদ | Sandhya Mukherjee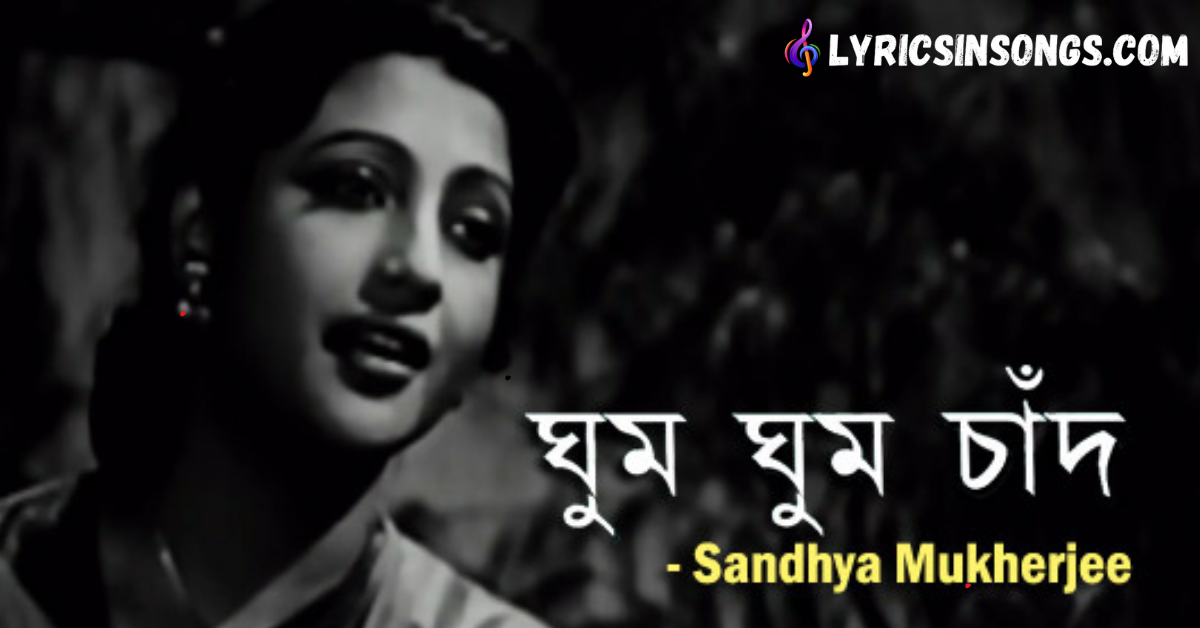 Ghum Ghum Chand Lyrics
ঘুম ঘুম চাঁদ ঝিকিমিকি তারা এই মাধবী রাত
আসেনি তো বুঝি আর, জীবনে আমার (x2)
এই চাঁদেরও তিথিরে বরন করি,
এই চাঁদেরও তিথিরে বরন করি
ওগো মায়াভরা চাঁদ আর, ওগো মায়াবিনী রাত
ঘুম ঘুম চাঁদ ঝিকিমিকি তারা এই মাধবী রাত
আসেনি তো বুঝি আর, জীবনে আমার।
বাতাসেরও সুরে শুনেছি বাঁশি তার
ফুলে ফুলে ঐ ছড়ানো যে হাসি তার
সেই মধুর হাসিতে হৃদয় ভরি
এই চাঁদেরও তিথিরে বরন করি
ওগো মায়াভরা চাঁদ আর, ওগো মায়াবিনী রাত।
সব কথা গান সুরে সুরে যেন রূপকথা হয়ে যায়
ফুল ঋতু আজ এলো বুঝি মোর জীবনের ফুল'ছায়
কোথায় সে কত দূরে জানিনা ভেসে যাই
মনে মনে জেনো স্বপ্নেরও দেশে যাই
আজ তাইকি জীবনে বাসর গড়ি
এই চাঁদেরও তিথিরে বরন করি
ওগো মায়াভরা চাঁদ আর ওগো মায়াবিনী রাত
ঘুম ঘুম চাঁদ ঝিকিমিকি তারা এই মাধবী রাত
আসেনি তো বুঝি আর, জীবনে আমার।
Meaning of Ghum Ghum Chand Lyrics
Ghum ghum chand lyrics that celebrates the beauty of a peaceful and enchanting night. Ghum ghum chand lyrics speak of the moon and the twinkling stars that shine bright in the sky, creating a magical and mesmerizing ambiance. The singer wonders why the beloved has not come yet, but acknowledges that they may not come at all, accepting the unpredictability of life. Ghum ghum chand lyrics also describes the gentle swaying of the bamboo trees in the cool breeze, and the sweet sound of laughter that fills the air. Overall, the song captures the essence of a serene and tranquil night, where the beauty of nature and the mysteries of life coexist in harmony.
Ghum ghum chand lyrics appears to describe a peaceful and tranquil night filled with the beauty of nature, symbolized by the moon and stars. The author expresses a longing for the arrival of this night and all its wonders, and describes the joy and contentment it brings. Ghum ghum chand lyrics also touch on themes of love, nostalgia, and the passage of time. Overall, the song seems to celebrate the simple pleasures of life and the beauty of the natural world.
About the Author of the Song
Indian music's iconic playback vocalist Sandhya Mukherjee has grown tremendously popular throughout the years. She began her career in the 1940s and rose to renown with her melodic voice and heartfelt performances in the 1950s and 1960s. She has contributed her voice to tens of thousands of songs in Bengali, Hindi, Marathi, among other Indian languages.
The reason Sandhya Mukherjee is so well-liked by audiences is because of her talent for evoking emotions via song. She is renowned for her flexibility and has performed a broad variety of music, including patriotic songs, devotional songs, and upbeat dance tunes.
The well-known Bengali song ghum ghum chand lyrics has been a favourite of generations of music fans in West Bengal and Bangladesh. The song was originally released in the 1960s and has since become a timeless classic. It was written by Pulak Banerjee and composed by Sudhin Dasgupta.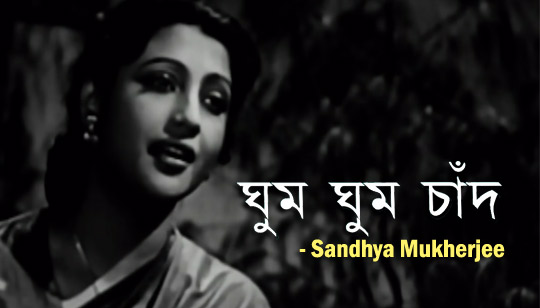 Ghum ghum chand lyrics, calming music, and heartfelt performance by Sandhya Mukherjee, it has become very famous. Bengali audiences have been moved by Sandhya Mukherjee's lovely voice and emotive delivery of the song's lyrics for decades. The song's straightforward yet moving lyrics, which highlight the wonders of a calm nap and the magnificence of the night sky, have touched listeners of all ages.
Several musicians have covered "Ghum Ghum Chand Jhikimiki Tara" over the years, and it has been included in a number of movies and television programmes. It is now ingrained in Bengali society and is frequently performed during celebrations, social gatherings, and cultural events. The song's ongoing popularity is evidence of both its enduring allure and Sandhya Mukherjee's lasting legacy in Bengali music.
Film Title: Sabar Upare
Song: Ghum Ghum Chand Jhikimiki Tara
Artist: Sandhya Mukherjee
Music Director: Robin Chatterjee
Lyricist: Gauriprasanna Mazumder
Filmstar Uttam Kumar/Suchitra Sen/Chhabi Biswas/Pahari Sanyal/Kamal Mitra
Director: Agradoot
These are some various versions and adaptations of ghum ghum chand lyrics songs on platform like YouTube. These are some links off the songs that have been provided here :