Tui Chunli Jakhan Lyrics | তুই ছুঁলি যখন | Arijit Singh | Samantaral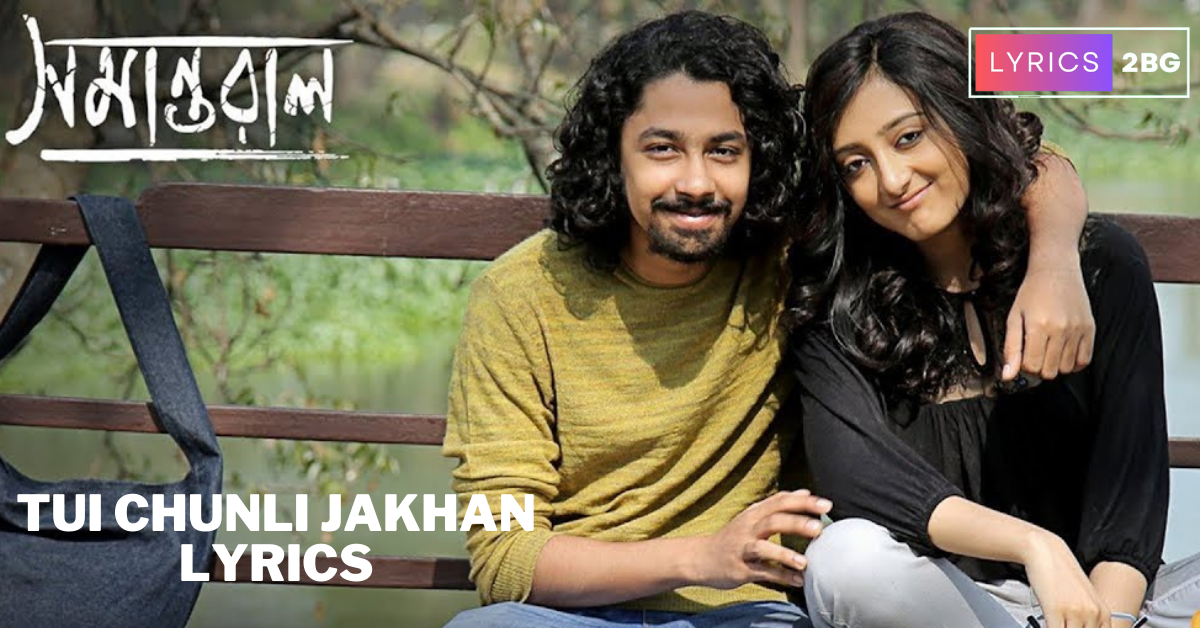 Tui Chunli Jakhan Lyrics

তুই হাসলি যখন,
তোরই হলো এ মন
তুই ছুঁলি যখন,
তোরই হলো এ মন।
দুচোখে আঁকছে শীত,
বাহারি ডাক টিকিট
দুচোখে আঁকলো শীত,
বাহারি ডাক টিকিট
আলসে রোদের চিঠি পাঠালো পিয়ন
তুই ছুঁলি যখন,
তোরই হলো এ মন।
ইতি-উতি কার্নিশে,
আলো ছায়া যায় মিশে
চলো না কুড়বো আবার
এলোমেলো চেনা রোদে
বসন্ত যায় যায় যায় জুটে
ভালোবেসে জীবন কাবার।
গুড়ো গুড়ো করিডোরে,
চুপিসাড়ে পাতা উড়ে
আজ বাতাস ও মাতাল,
বেপরোয়া হাফ ছুটি
মাখাচ্ছে খুনসুটি, খুনসুটি
ভালোবাসে উথাল পাথাল।
এতো কথা বলি যাকে,
চিনি আমি চিনি তাকে।
চোখে চোখে কথোপকথন,
তুই ছুঁলি যখন,
তোরই হলো এ মন
হুম.. তুই হাসলি যখন,
তোর ই হলো এ মন।
দুচোখে আঁকছে শীত,
বাহারি ডাক টিকিট
দুচোখে আঁকলো শীত,
বাহারি ডাক টিকিট
আলসে রোদের চিঠি পাঠালো পিয়ন।
Meaning of Tui Chunli Jakhan Lyrics
Tui chunli jakhan lyrics celebrates the arrival of spring and the joys of love. Tui chunli jakhan lyrics describe the beauty of nature during the season of Basanta (spring), with references to the coldness of winter giving way to the warmth of spring, the fluttering of leaves and the softness of the wind. The singer also expresses their love and admiration for someone special in their life, describing how their laughter and touch brings joy to their heart.
Tui chunli jakhan lyrics uses metaphors and symbolism to depict the various moods and emotions of the season. For example, the arrival of spring is compared to the sound of a train whistle, and the beauty of nature is described as a painting that unfolds before the eyes. The chorus of the song repeats the lines "When you smile, my heart smiles with you, When you cry, my heart cries with you", emphasizing the connection between the singer and their loved one.
Overall, the tui chunli jakhan lyrics is a celebration of life, love, and the beauty of nature, and the lyrics express the joy and happiness that comes with the arrival of spring.
About the Author of  Tui Chunli Jakhan Lyrics
Tui Chunli Jakhan Lyrics is a Bengali song that was released in 2018. This Song is  from the 2018 film "Samantaral," is called "Tui Chuli Jakhan," Shreya Ghoshal and Arijit Singh both provide vocals to the song, which was written by Debajyoti Mishra.
Tui chunli jakhan lyrics is a soulful and emotional rendition of a lover's longing for their beloved. Tui chunli jakhan lyrics describe how the protagonist is unable to forget their lover, even though they have left them. The song speaks of the pain of separation and the yearning for a reunion. The song's music is composed in a leisurely tempo and has a delicate melody.
A melancholy and contemplative atmosphere is produced by the use of an acoustic guitar and little percussion. The voices are powerful and empathetic, bringing the lyrics' unfiltered feelings to life. The use of acoustic guitar and piano in the background score adds to the emotional impact of the song.
Overall, "Tui Chuli Jakhan" is a beautiful song that speaks to the heart and soul of its listeners, capturing the essence of love, longing, and separation in a poignant and moving way. "Tui Chuli Jakhan" was a massive hit in Bengal and became one of the most popular Bengali songs of 2018. It was also featured in the soundtrack of the film "Samantaral," which was directed by Partha Chakraborty
Movie Name: Samantaral
Singers: Arijit Singh & Shreya Ghoshal
Music: Inrdraadip Das Gupta
Lyricist: Dipangshu
Arranger/Programmer: Dev Arijit Guitar
Design: Adtiya Shankar & Dev Arijit
Flute: Tejas Venchurkar
Mixing & Mastering: Amit Chatterjee
Cast: Riddhi Sen & Surangana Bandopadhyay
Production House: Happycrowd Films
Producer: T.N.Saha
In Association with: PSS Entertainments
Executive Producer: Souvik
Director: Partha Chakraborty

These are some various versions and adaptations of tui chunli jakhan lyrics on platform like YouTube. These are some links off the songs that have been provided here :