Tumi Je Amar Lyrics | তুমি যে আমার | Harano Sur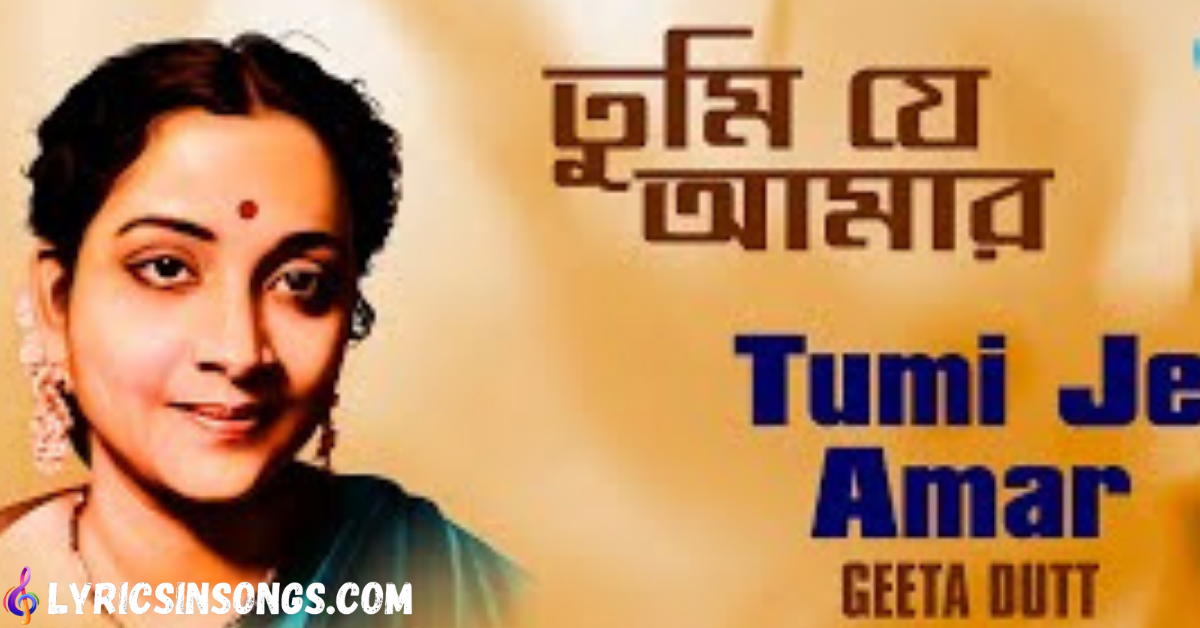 Tumi Je Amar Lyrics
Tumi je amar
Ogo tumi je amar
Kane kane sudhu ekbar bolo
Tumi je amar
Tumi je amar
Ogo tumi je amar
Amari porani asi
Tumi je bajabe bashi
Sei toh amari sadhona
Chaina toh kichu ar
Tumi je amar
Ogo tumi je amar
Tumi je amar disha
Okulo ondhokare
Dao go amare vore
Nirob ohonkare
Jibon moron majhe
Eso go bodhur sajhe
Sei toh amari jibone
Tomari ovisar
Tumi je amar
Ogo tumi je amar
Kane kane sudhu ekbar bolo
Tumi je amar
Tumi je amar
Ogo tumi je amar
Meaning of  Tumi Je Amar Lyrics
Tumi je amar lyrics is a Bengali love song that expresses the deep affection and devotion of a lover towards their beloved. The lyrics convey a sense of intense longing and desire to be with the loved one, with the protagonist asking their beloved to confirm their love for them repeatedly.
The opening lines of the song, "You are mine, oh you are mine, just tell me once, whisper in my ear, you are mine, oh you are mine," sets the tone of the song. The protagonist wants their lover to confirm their love for them repeatedly, emphasising the depth of their passion.
The second stanza of the song talks about the protagonist's desire to be with their lover and how their lover's presence is like music to their ears. The lyrics express that the lover's presence is the only thing that can satisfy their soul, and they don't need anything else in life.
The third stanza describes the protagonist's longing for their lover's guidance and support. The protagonist sees their lover as a beacon of light in the darkness and implores them to embrace them with their silence.
The final stanza talks about how the protagonist's ultimate goal in life is to be close to their lover. The lyrics convey that their love is so profound that it is the only thing that gives meaning to their life, and they would gladly give up everything else for it. Overall, the song "Tumi Je Amar" is a beautiful expression of love, longing, and devotion that captures the essence of Bengali romantic music.
About the Author of the Song
Geeta Dutta, was a well-known playback singer from India and also a very famous classical artist in Hindi and Bengali. Some of Geeta Dutt's most famous songs include "Waqt ne kiya kya haseen sitam" from the film Kaagaz Ke Phool, "Babuji Dheere Chalna" from the film Aar Paar, and "Aan Milo Sajna" from the film Devdas. She also sang several Bengali songs, including the classic love song like "Tumi Je Amar", "Nishiraat banka chand akashe", "Koto gaan Haralam", "Oi sur bhora dur neelimay".
The song "tumi je amar" were written by renowned poet and songwriter Gouri Prasanna Majumdar, and the music was composed by Hemanta Mukhopadhyay. The song was first recorded in 1957 for the bengali film "Harano Sur" and became an instant hit. Many cover version of this song was sung by other artists like Madhubanti Mukherjee and Mahtim Shakib.
Film Name: Harano Sur
Song Name: Tumi Je Amar
Singer: Geeta Dutta
Music Composer: Hemanta Mukhopadhyay
Lyrics: Gouri Prasanna Majumdar
Director: Ajoy Kar
Producer: Uttam Kumar
Here are some versions of the song "Tumi Je Amar" available on YouTube.