Ami Cheye Cheye Dekhi Saradin Lyrics (আমি চেয়ে চেয়ে দেখি সারাদিন) | Shyamal Mitra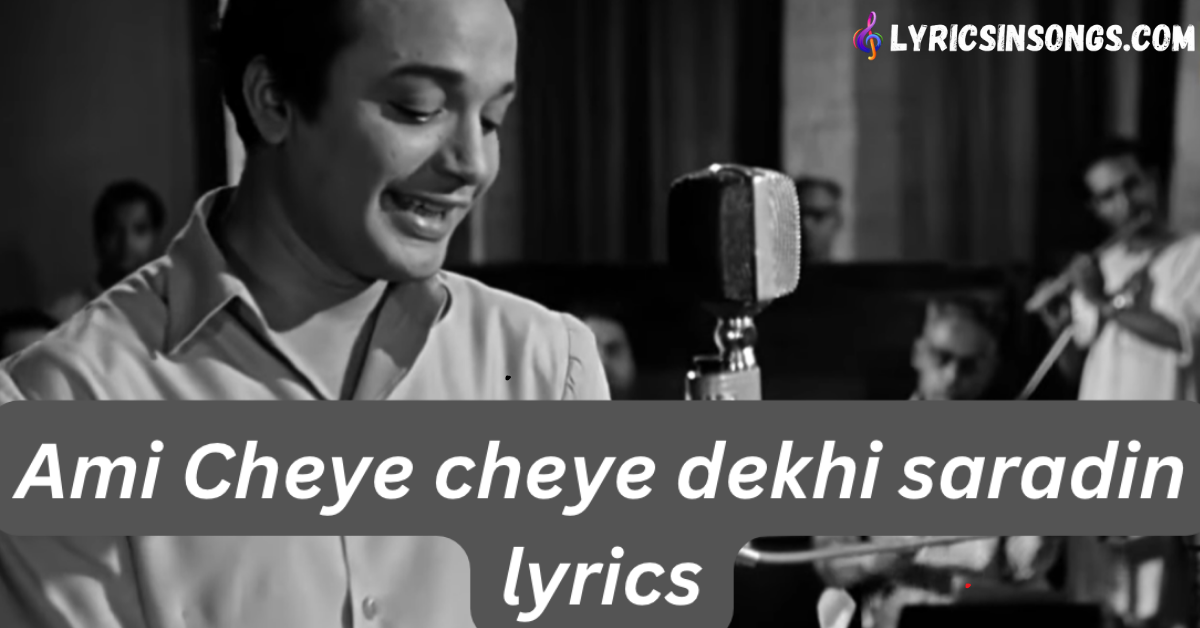 Ami Cheye Cheye Dekhi Saradin Lyrics
আমি চেয়ে চেয়ে দেখি সারাদিন
আজ ঐ চোখে সাগরেরও নীল
আমি তাই কি গান গাই কি
বুঝি মনে মনে হয়ে গেল মিল (x2)
কবরীতে ঐ ঝরঝর কনক চাঁপা
না বলা কথায় থর থর অধর কাঁপা (x2)
তাই কি আকাশ হল আজ
আলোয় আলোয় ঝিলমিল
আমি চেয়ে চেয়ে দেখি সারাদিন
আজ ঐ চোখে সাগরেরও নীল
আমি তাই কি গান গাই কি
বুঝি মনে মনে হয়ে গেল মিল
এই যেন নয়গো প্রথম
তোমায় যে কত দেখেছি
স্বপ্নেরও তুলি দিয়ে তাই
তোমার সে ছবি এঁকেছি
মৌমাছি আজ গুনগুন দোলায় পাখা
যেন এ হৃদয় রামধনু খুশিতে মাখা
তাই কি গানের সুরে আজ
ভরে আমার রিনিকিন
আমি চেয়ে চেয়ে দেখি সারাদিন
আজ ঐ চোখে সাগরেরও নীল
আমি তাই কি গান গাই কি
বুঝি মনে মনে হয়ে গেল মিল (x2)
Meaning of Ami Cheye Cheye Dekhi Saradin Song
The song's introductory words discuss the singer's propensity for scanning their surroundings throughout the day and how, at one point, they were startled by the intense blue of the ocean in their eyes. They begin to doubt the significance of the song they are singing as a result, and they get perplexed about their own feelings.
The vocalist describes her views of nature in the following few lines, focusing on the flying butterflies and the leaves changing colour. They ponder the significance of these fleeting but important moments and whether the singer can draw any lessons from them.
The song's singer then adopts a more reflective tone as they consider their own experiences in the past and the individuals they have encountered. They reflect on their initial encounter with the person they are singing to and how they have treasured that moment ever since. They talk about how they have attempted to shoot that recollection but have eventually failed to do so.
The passage's last sentences reflect the singer's happiness and sense of freedom as they sing their song. They experience a sensation of joy and fulfilment, and they get the impression that their heart is flying like a bird. They express thanks for the chance to perform and consider their song as a means of paying back a debt.  The song has had a profound cultural influence and is still well-liked by people of all ages.
The song's sentimental and reflective lyrics are a major factor in its appeal. The song perfectly embodies the spirit of Bengali culture and tradition, and many people connect it to their childhood experiences there. The song's lines vividly depict daily life in Bengal, including the azure ocean, falling leaves, and flying butterflies, giving listeners a sense of familiarity and comfort.
About the Author of the Song
Ami Cheye Cheye Dekhi Saradin Song is from Deya Neya Bengali Movie.The Song is sung by Shyamal Mitra.Gauriprasanna Mazumder with lyrics and Starring: Uttam Kumar and Tanuja. The performer is moved to nostalgia and contemplation by the lyrics as they remind them of their past triumphs and the beauty of their surroundings.
The melody and structure of the song are particularly significant. A quiet and peaceful environment is created by Shyamal Mitra's soulful voice and the delicate orchestration, which is the ideal accompaniment to the reflective lyrics. The song's attractiveness and cultural significance are increased by the composition, which is based on the conventional Bengali raga.
Several well-known singers have sung "Ami Cheye Cheye Dekhi Saradin" throughout the years, and it has appeared in numerous Bengali movies and television programmes. With people from all over the world admiring its beauty and significance, it has cultural influence that goes beyond Bengal.
Singer : Shyamal Mitra Music
Director : Shyamal Mitra
Lyricist : Gauri Prasanna Mazumder
Mood : Happy
Theme : Nature Release : 1963
Director : Sunil Bandyopadhyay
Starcast : Uttam Kumar, Tanuja, Pahari Sanyal, Kamal Mitra, Tarun Kumar, Shyam Laha, Bidhayak Bhattacharya, Premangshu Bose, Nripati Chatterjee, Mani Srimani, Sushil Chakraborty, Samar Kumar, Chhaya Devi, Lily Chakravarty, Sumita Sanyal, Kabita Roy
These are some various versions and adaptations of his songs on platform like YouTube. These are some links off the songs that have been provided here :