Sei Tumi (সেই তুমি) | Keno Eto Ochena Hole Lyrics | Ayub Bachchu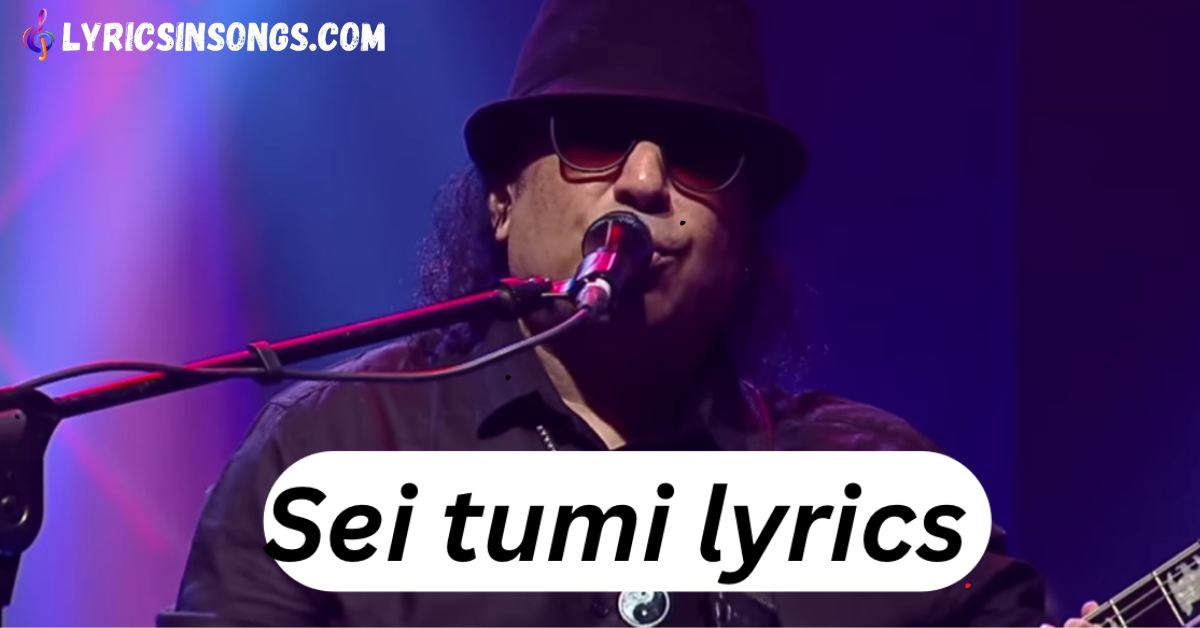 Sei Tumi Lyrics
সেই তুমি কেন এত অচেনা হলে
সেই আমি কেন তোমাকে দুঃখ দিলেম
কেমন করে এত অচেনা হলে তুমি
কিভাবে এত বদলে গেছি এই আমি
ও বুকেরই সব কষ্ট দুহাতে সরিয়ে
চল বদলে যাই...
তুমি কেন বোঝনা
তোমাকে ছাড়া আমি অসহায়
আমার সবটুকু ভালোবাসা তোমায় ঘিরে
আমার অপরাধ ছিল যতটুকু তোমার কাছে
তুমি.. ক্ষমা করে দিও আমায়..
কত রাত আমি কেদেছি
বুকের গভীরে কষ্ট নিয়ে
শূন্যতায় ডুবে গেছি আমি
আমাকে তুমি ফিরিয়ে নাও
তুমি কেন বোঝনা
তোমাকে ছাড়া আমি অসহায়
আমার সবটুকু ভালোবাসা তোমায় ঘিরে
আমার অপরাধ ছিল যতটুকু তোমার কাছে
তুমি ক্ষমা করে দিও আমায়
যতবার ভেবেছি ভুলে যাবো
তারও বেশি মনে পড়ে যায়
ফেলে আশা সেই সব দিনগুলো
ভুলে যেতে আমি পারি না
তুমি কেন বোঝনা
তোমাকে ছাড়া আমি অসহায়
আমার সবটুকু ভালোবাসা তোমায় ঘিরে
আমার অপরাধ ছিল যতটুকু তোমার কাছে
তুমি ক্ষমা করে দিও আমায়
সেই তুমি কেন এত অচেনা হলে
সেই আমি কেন তোমাকে দুঃখ দিলেম
কেমন করে এত অচেনা হলে তুমি
কিভাবে এত বদলে গেছি এই আমি
Meaning of Sei Tumi Keno Eto Ochena Song
The song "Sei Tumi Keno Eto Ochena Hole Lyrics "'s convey the speaker's sentiments for their loved one. They experience betrayal and hurt because of how drastically their loved one has changed, being aloof and strange. They ponder how they could have altered themselves so significantly and how they could have hurt them so severely.
The speaker admits that they have a great affection for their partner and that they simply cannot live without them. They also express regret for the hurt their loved one has caused them and beg for pardon, nevertheless. As they attempt to deal with their emotions, they talk about the severe suffering they have gone through both physically and mentally.
The speaker hopes that their loved one would reconcile with them and return, but they are aware that it could already be too late. They fear that they will constantly be plagued by thoughts of what could have been and that they will never be able to forget the enjoyable moments they had together.
About the Author of the Song
Ayub Bachchu's well-known Bengali song "Sei Tumi" has had a tremendous influence on Bangladeshi musical tradition. The song, which was included on the 1996 album "Cholo Bodle Jai," immediately became well-known due to its lovely lyrics, soulful music, and strong voice.
"Sei Tumi" most significant effect is that it has come to symbolize love and grief in Bangladesh. The song has become a standard at weddings, parties, and other social occasions because of its potent message of love, heartbreak, and forgiveness that has touched individuals of all ages and backgrounds.
"Sei Tumi's" contribution to the worldwide and domestic popularity of Bangladeshi rock music is another effect. Several young artists have been motivated to investigate their own musical history and incorporate it into their own compositions by the song's mix of traditional Bengali music with Western rock and roll.
As a result of its lovely lyrics, soulful melody, and stirring message of love and forgiveness, "Sei Tumi" has had a significant influence on Bangladeshi music culture. It has inspired generations of musicians and fans. It continues to be one of the most cherished and recognisable songs in Bangladeshi music history.
Vocals - Arko
Music - Arko
Lyrics - Arko
Programming & Arrangement - Aditya Dev
Mix & Master - Aditya Dev
Music Label - RCE Music
These are some various versions and adaptations of his songs on platform like YouTube. These are some links off the songs that have been provided here :