Dhono Dhanne Pushpe Bhora Lyrics (ধনধান্য পুষ্প ভরা) | Dwijendralal Ray
ধনধান্য পুষ্প ভরা আমাদের এই বসুন্ধরা তাহার মাঝে আছে দেশ এক সকল দেশের সেরা ও সে স্বপ্ন দিয়ে তৈরি সে দেশ স্মৃতি দিয়ে ঘেরা এমন দেশটি কোথাও খুঁজে পাবে নাকো তুমি ও সে সকল দেশের রাণী সে যে আমার জন্মভূমি সে যে আমার জন্মভূমি, সে যে আমার জন্মভূমি।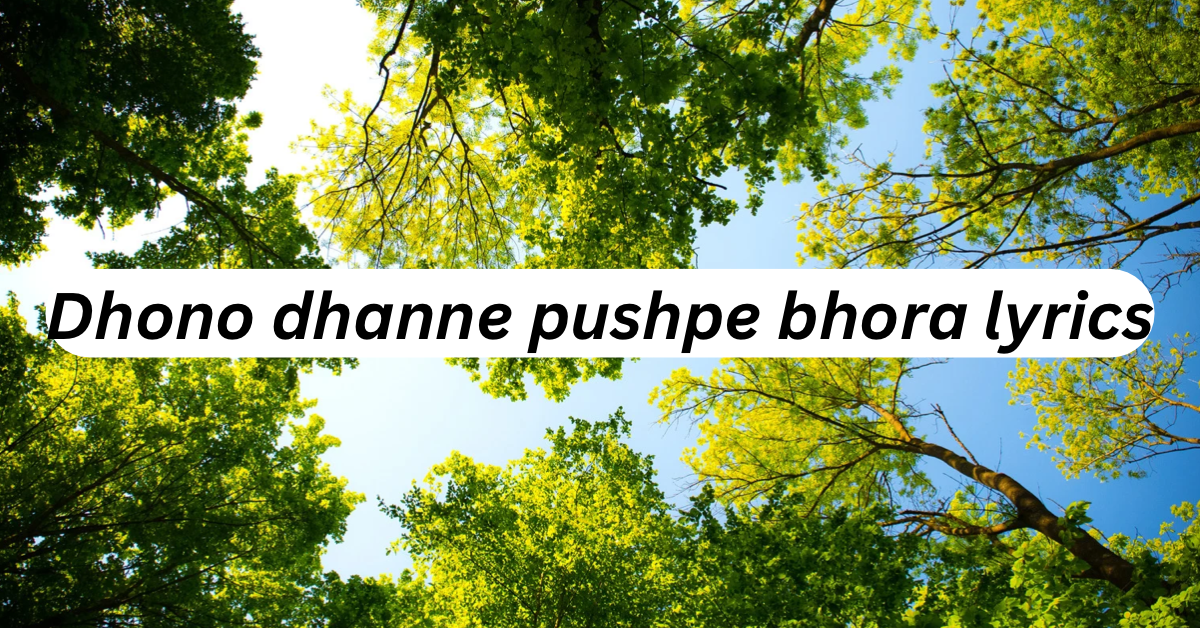 Dhono Dhanne Pushpe Bhora lyrics

ধনধান্য পুষ্প ভরা আমাদের এই বসুন্ধরা
তাহার মাঝে আছে দেশ এক সকল দেশের সেরা
ও সে স্বপ্ন দিয়ে তৈরি সে দেশ স্মৃতি দিয়ে ঘেরা
এমন দেশটি কোথাও খুঁজে পাবে নাকো তুমি
ও সে সকল দেশের রাণী সে যে আমার জন্মভূমি
সে যে আমার জন্মভূমি,
সে যে আমার জন্মভূমি।

চন্দ্র সূর্য গ্রহতারা,
কোথায় উজল এমন ধারা
কোথায় এমন খেলে তড়িৎ এমন কালো মেঘে
তার পাখির ডাকে ঘুমিয়ে উঠি
পাখির ডাকে জেগে।

এত স্নিগ্ধ নদী কাহার,
কোথায় এমন ধুম্র পাহাড়
কোথায় এমন হরিত ক্ষেত্র আকাশ তলে মেশে
এমন ধানের উপর ঢেউ খেলে যায়
বাতাস কাহার দেশে।

পুষ্পে পুষ্পে ভরা শাখি কুঞ্জে কুঞ্জে গাহে পাখি
গুঞ্জরিয়া আসে অলি পুঞ্জে পুঞ্জে ধেয়ে
তারা ফুলের ওপর ঘুমিয়ে পড়ে
ফুলের মধু খেয়ে।

ভায়ের মায়ের এত স্নেহ,
কোথায় গেলে পাবে কেহ
ওমা তোমার চরণ দুটি বক্ষে আমার ধরি
আমার এই দেশেতে জন্ম যেন এই দেশেতে মরি।
এমন দেশটি কোথাও খুঁজে পাবে নাকো তুমি
ও সে সকল দেশের রাণী সে যে আমার জন্মভূমি
সে যে আমার জন্মভূমি,
সে যে আমার জন্মভূমি।
Patriotic song by Lopamudra Mitra composed by Dwijendralal Roy
Music arrangement and programming : Debashish Shome
Slide guitar : Madhu Mukherjee
Guitar : Sanjoy Das
Flute : Sushanta Nandy
Chorus : Arijit,Joy,Deep,Avik,Oliva,Chandreyee,Kamalika,Debarati Recording,Mixing,Mastering : Goutam Basu (Studio Vibrations)
Video editing : Pritha Chakraborty
Sand Animation : Bappa Maji
Direction,Cinematography : Ranjay Rc
Meaning of the Song Dhono Dhanne Pushpe Bhora
The dhonno, dhanno, and pushpo, which stand in for the country's many regions, are mentioned in the song's first line as examples of the lovely flowers that can be found across Bangladesh. According to the poet, this land has the finest of all nations, and it is a dreamland filled with treasured memories. The poet emphasizes to the audience that this land is his motherland, the queen of all places, and that it cannot be found anywhere else in the world.

The glory of the night sky, where the stars, moon, and planets shine brightly, is described in the second verse. The poet expresses his curiosity about the source of such an unending flood of light. He also discusses the dark clouds that add to the beauty of the night by bringing rain, thunder, and lightning. He pays attention to the bird sounds and considers how they are able to soar so far in the air.

The third verse discusses Bangladesh's numerous rivers and hills, which give the country its singular beauty. The poet is in awe of how the rivers run and how the mist covers the hills. Also, he describes the lush fields, the golden crops that thrive there, and the tricks the wind performs on them. The poet then conjures up the pleasure and happiness of the inhabitants of this paradise as they frolic and dance in the fields.
Ultimately, this song honors Bangladesh's natural splendor, cultural variety, and depth. It serves as a gentle reminder to the listener that their home is special and cannot be replaced. Also, the song encourages the listener to respect the locals' natural beauty as well as their culture and way of life.
About Dhono Dhanne Pushpe Bhora Song
Dhono dhanne pushpe bhora poem song was written and composed by Dwijendralal Ray. This patriotic poem song is sung by Lopamudra Mitra from India and Imran, Nancy, Anika, Masum from Bangladesh and many more various artists.
The poet's own nation of Bangladesh, which is celebrated in this lovely Bengali song, is known for its natural splendor and diverse culture. A lot of vivid imagery is used in the lyrics to convey the spirit of the setting, the people, and their way of life.
There are some discrepancies regarding the lyrics of this song. Some sing "Dhono Dhanne Pushpe Bhora" while others sing "Dhono Dhanne Pushpo Bhora". Some sing "Tara Pakhir Dake Ghumiye Uthi, Pakhir Dake Jege'' while others sing "Tara Pakhir Dake Ghumiye Pore, Pakhir Dake Jege". Some versions have been written as "Tara Pakhir Dake Ghumiye, Othe Pakhir Dake Jege ''.