Hoyto Tomari Jonno Lyrics (হয়তো তোমারই জন্য) | Manna Dey
হয়তো তোমারই জন্যহয়েছি প্রেমে যে বন্য,জানি তুমি অনন্যআশার হাত বাড়াই,যদি কখনো একান্তেচেয়েছি তোমায় জানতে,শুরু থেকে শেষ প্রান্তেছুটে ছুটে গেছি তাই।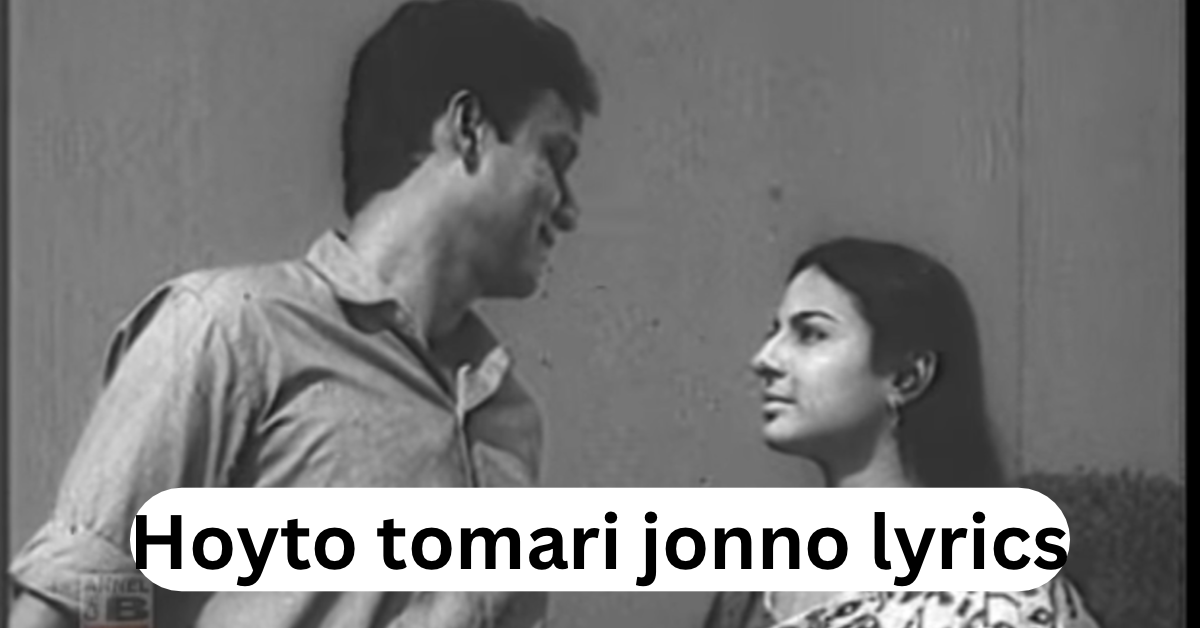 Hoyto Tomari Jonno Lyrics

হয়তো তোমারই জন্য
হয়েছি প্রেমে যে বন্য,
জানি তুমি অনন্য
আশার হাত বাড়াই,
যদি কখনো একান্তে
চেয়েছি তোমায় জানতে,
শুরু থেকে শেষ প্রান্তে
ছুটে ছুটে গেছি তাই।
আমি যে নিজেই মত্ত
জানিনা তোমার শর্ত,
যদি বা ঘটে অনর্থ
তবুও তোমায় চাই..
হয়তো তোমারি জন্য
হয়েছি প্রেমে যে বন্য,
জানি তুমি অনন্য
আশার হাত বাড়াই।
আমি যে দুরন্ত, দুচোখে অনন্ত
ঝড়ের দিগন্ত জুড়েই স্বপ্ন ছড়াই,
তুমি তো বলনি মন্দ
তবু কেন প্রতিবন্ধ,
তুমি তো বলনি মন্দ|
তবু কেন প্রতিবন্ধ,
রেখোনা মনের দ্বন্দ্ব
সব ছেড়ে চলো যাই.
হয়তো তোমারি জন্য
হয়েছি প্রেমে যে বন্য,
জানি তুমি অনন্য
আশার হাত বাড়াই,
যদি কখনো একান্তে
চেয়েছি তোমায় জানতে,
শুরু থেকে শেষ প্রান্তে
ছুটে ছুটে গেছি তাই।
Artiste: Manna Dey Music
Director: Sudhin Dasgupta
Lyricist: Sudhin Dasgupta
Film: Teen Bhubaner Parey
Label: Saregama India Ltd
Meaning of the Song Hoyto Tomari Jonno
It is a romantic song about being in love with someone who seems different and unique from everyone else. The lyrics express the desire to understand this person better and the willingness to do whatever it takes to be with them.

The song also touches upon the uncertainty and vulnerability that comes with being in love. The singer acknowledges that they do not know everything about the person they love, and they may never fully understand them. However, this does not deter them from wanting to be with them and accepting them for who they are.

The final stanza of the song talks about the infinite possibilities of love and the vastness of the universe. The singer describes themselves as limitless, dreaming of a future with the person they love. The song ends with an invitation to the listener to join them on this journey of love, to let go of any doubts and insecurities, and to move forward with courage and conviction.

About Hoyto Tomari Jonno Song
From the Bengali film Teen Bhubaner Parey(1969), Manna Dey sings the song Hoyto Tomari Jonno. Tanuja and Soumitra Chatterjee are the stars. Sudhin Dasgupta wrote the lyrics and the music for the song. This song also has been covered by Miftah Zaman and music labeled by saregama. "Hoyto Tomari Jonno" has grown to be a crucial component of Bengali culture. The song's lyrics, which convey a profound sensation of yearning for a loved one, have come to represent people's need for friendship and connection.
The song continues to be a favorite among Bengali music fans of all ages due to its appeal throughout generations. All things considered, "Hoyto Tomari Jonno" is a priceless gem that will always be remembered and cherished in Bengali music and culture. Its persistent appeal and capacity to evoke strong emotions in listeners are both evidence of the song's ageless allure. One of the most well-known Bengali songs of all time, "Hoyto Tomari Jonno" is renowned for its eerie music and moving lyrics.
More than six decades after its first release, the song still has a timeless charm that appeals to listeners. Both in terms of its artistic worth and its cultural significance, the song has a substantial impact. Salil Chowdhury's works are known for their flawless fusion of Indian classical music with Western harmony, and this song is no exception. Manna Dey's heartfelt performance, which is regarded as one of his best, adds to the song's emotional depth and aesthetic beauty.