Hridoyer Rong Lyrics (হৃদয়ের রং) | Ghare And Baire | Lagnajita Chakraborty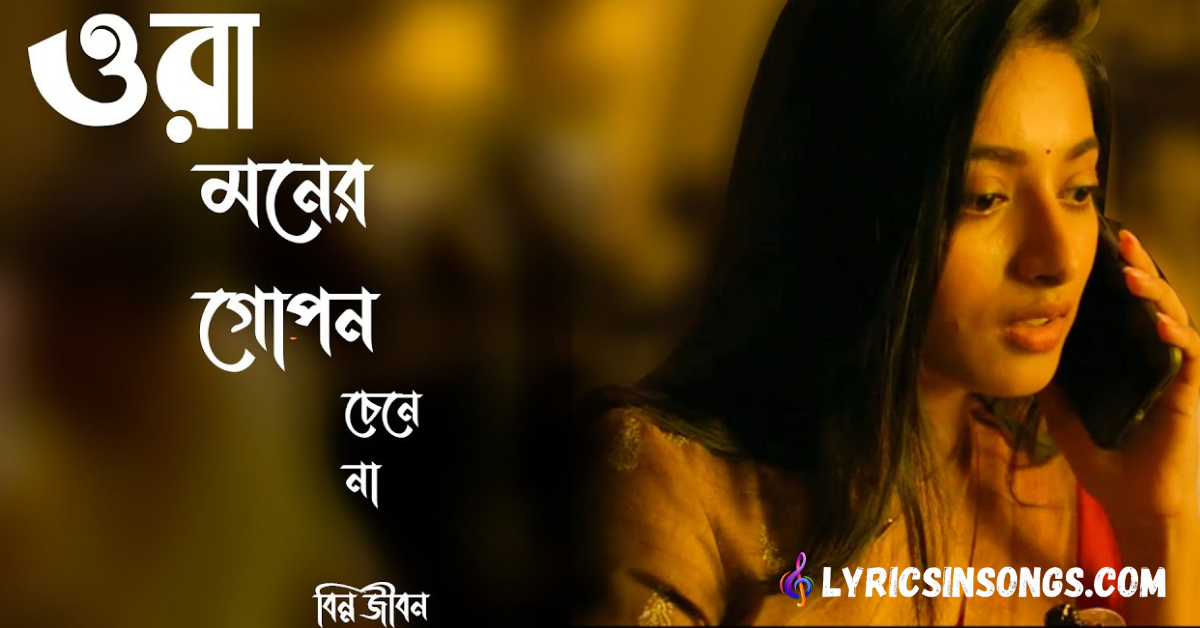 Hridoyer Rong Lyrics in Bengali
ওরা মনের গোপন চেনে না
ওরা হৃদয়ের রং জানে না
প্রজাপতি ডানা ছুঁলো বিবাহ বাসরে
কেন সারারাত জেগে বাড়ি ফিরি ভোরে
ওরা মনের গোপন চেনে না
ওরা হৃদয়ের রং জানে না
তুমি চিরদিন.. ভিষণ কঠিন
তোমার ঘর ভেসে যায়
ওরা মুখ দেখে বুঝতে পারে না (x2)
ওরা এ মন কেমন বোঝে না
ওরা আসল কারণ খোঁজে ন
তুমি চিরকাল.. স্বপ্নে মাতাল
হেটে সারাজীবন ধরে
ঝড় বৃষ্টি মাথায় করে (x2)
ওরা মনের গোপন চেনে ন
ওরা হৃদয়ের রং জানে না
প্রজাপতি ডানা ছুঁলো বিবাহ বাসরে
কেন সারারাত জেগে বাড়ি ফিরি ভোরে
ওরা মনের গোপন চেনে ন
ওরা হৃদয়ের রং জানে না
Meaning and Interpretation of the Song
The song expresses the emotions of a person who feels that their innermost thoughts, feelings, and motivations are not understood by others. In this circumstance, the person feels isolated and misunderstood, which prompts a sense of confusion and longing in the person. They wonder why they seem to be wandering aimlessly around the world without a sense of purpose and why they lack a sense of belonging.
It evokes a sense of enduring love that has the ability to survive the challenges of life while, at the same time, displaying that sense of enduring love. This love is represented by the stormy rain, which can be interpreted as a metaphor for the difficulties and obstacles that life can present. The instruments used in this song are guitar, flute and a few others which has contributed to the song to make it sorrowful. It has been a popular song among the Bengalees, especially for the youngsters ever since it was released.
Overall, the song seems to express the idea that the emotions and colors of the heart are constantly changing and cannot be easily described. The lyrics also seem to describe the feeling of restlessness and uncertainty that one can experience in life.
About Author of the Song
"Hridoyer Rong" is a popular song from the Bengali movie "Ghare and Baire" which was released on 30 March, 2018. The song is an exploration of the complex emotions and states of mind experienced by the heart, represented by a range of vivid and evocative colors.
This famous song is sung by Lagnajita Chakraborty. Lagnajita Chakraborty is a well-known Indian playback singer who primarily works in Bengali films and music industry. She was born on November 19, 1990, in Kolkata, West Bengal, India. Apart from her playback singing career, Lagnajita has also released several albums of her own, including "Ei Gaan," "Na Bola Katha," and "Na Bola Kotha 2." She has won several awards for her contribution to the music industry, including the prestigious National Film Award for Best Female Playback Singer in 2015.
Some other songs sung by Lagnajita Chakraborty that again captured the heart of many people are Boshonto Eshe Geche, E Bhabe Golpo Hok, Kotota Raat, Bhalobashi Chol, Tomar Chokher Shitol Pati, Moddho Rater Gaan, Amar Ektarata, Behaya and a lot more. There are several other Bengali singer whose songs have been a bliss are Anupam Roy, Iman Chakraborty, Rupankar Bangchi, Somalata Acharya Chakroborty and Ishan Mitra.
Movie: Ghare And Baire
Song: Hridoyer Rong
Singer: Lagnajita Chakraborty
Lyrics: Anupam Roy
Guitar: Rishabh Ray
Tabla and Dhol by: Joy Nandi
Arranged & Programmed by: Kuntal De
Music: Anupam Roy
Director: Mainak Bhaumik
Presenter: Nispal Singh
Produced by: Surinder Films
These are some various versions and adaptations of his songs on platform like YouTube. These are some links off the songs that have been provided here :