ki Mayay Bedhecho Amay Lyrics (কি মায়ায়) | Belashuru | Shreya Ghoshal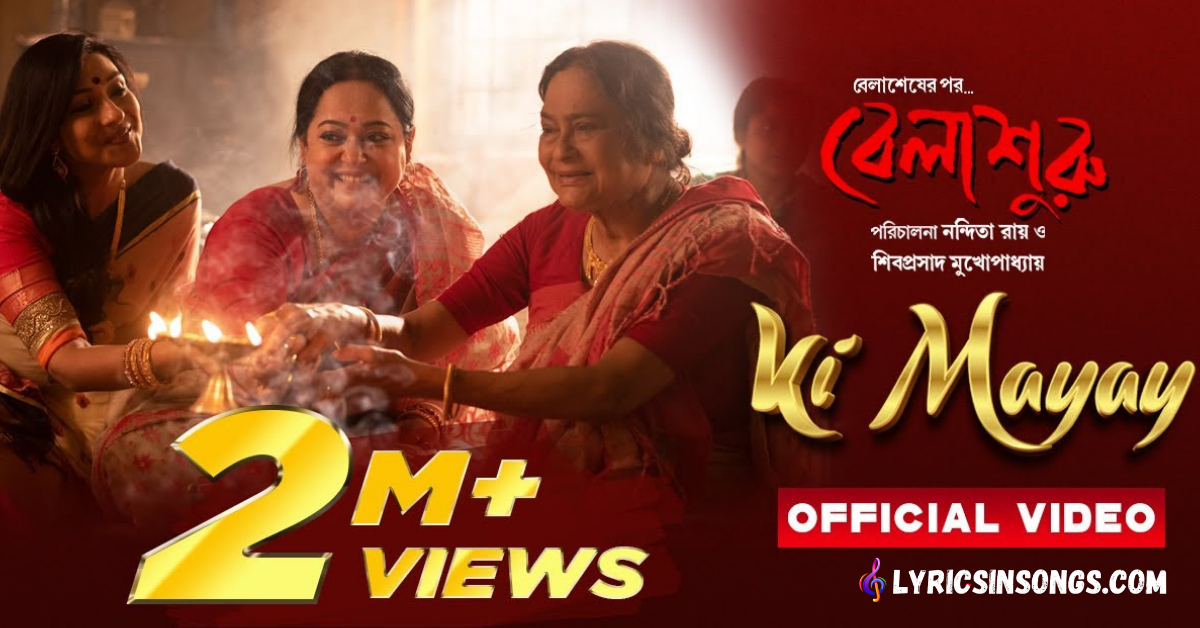 Ki Mayay Bedhecho Amay Lyrics
কি মায়ায় বেঁধেছো আমায়,
পিয়া গো,
কি মায়ায়, বেঁধেছো আমায়,
বুকে ধরে রাখো আরও কাছে থাকো
বুকে ধরে রাখো আরও কাছে থাকো,
ভালোবেসে ফেলেছি তোমায়,
ওগো পিয়া,
কি মায়ায় বেঁধেছো আমায়,
পিয়া গো,
কি মায়ায় বেঁধেছো আমায়।
সানাই এর সুর বাজে ..
সানাই এর সুর বাজে
মন নেই কোনো কাজে,
পান পাতা দিয়ে ঢেকে রেখেছি হৃদয়
কি মায়ায় বেঁধেছো আমায়,
পিয়া গো,
কি মায়ায় বেঁধেছো আমায়।
ফুলের মালায় গেঁথে রাখবো এ শুভক্ষণ
স্মৃতি টুকু দিয়ে সারা জীবন সাজাবো,
ফুলের মালায় গেঁথে রাখবো এ শুভক্ষণ
স্মৃতি টুকু দিয়ে সারা জীবন সাজাবো,
এমন মধুর রাতে.. আ আ..
এমন মধুর রাতে
হাত খানি রাখো হাতে,
সাতপাকে বাঁধা পড়ে গেছি চিরকাল।
কি মায়ায় বেঁধেছো আমায়,
পিয়া গো,
কি মায়ায় বেঁধেছো আমায়।
বুকে ধরে রাখো, আরও কাছে থাকো
বুকে ধরে রাখো, আরও কাছে থাকো,
ভালোবেসে ফেলেছি তোমায়,
ওগো পিয়া,
কি মায়ায় বেঁধেছো আমায়,
পিয়া গো,
কি মায়ায় বেঁধেছো আমায়।
কি মায়ায় বেঁধেছো আমায়,
পিয়া গো,
কি মায়ায় বেঁধেছো আমায়।
Meaning and Interpretation of the Song
The use of the flute and the betel leaves in the lyrics are poetic metaphors to represent the enchanting and captivating nature of love. The singer also expresses their desire to stay close to their lover and keep them in their heart forever. The garland of flowers symbolizes the beautiful memories that the couple shares, and the sweetness of the night represents the joy and happiness of their love. The singer also refers to the tying of the knot, which can be interpreted as a metaphor for the couple's commitment to each other.
Overall, the song conveys the intensity of love and the depth of emotions felt by two people in love. It is a beautiful and romantic song expressing the speaker's love for their beloved and the strong bond they share. Overall, "Ki Mayay" is a beautiful love song that captures the essence of true love and the power it holds over our hearts. The other songs from the Bengali movie Belashuru are Tapa Tini sung by Iman Chakraborty, Shohage Adore by Anupam Roy and Belashuru by Kabir Suman.
About the Author of the Song
"Ki Mayay" is a song from the Bengali film "Belashuru," directed by Shiboprosad Mukherjee and Nandita Roy. The lyrics were written by Dipangshu Acharya, and the music was composed by Anindya Chatterjee. The song was sung by Shreya Ghoshal. The film was released in 2019 and received critical acclaim for its portrayal of family relationships and dynamics.
The song is a romantic track that expresses the deep love and attachment between two people. The title "Ki Mayay" roughly translates to "What have you done to me?" in English. The lyrics portray a sentiment of being constrained and entranced by the affection of the other individual. The singer expresses his love for his beloved and requests her to hold him close to her heart and stay by his side. The song has a sweet and melodious tune, which adds to its emotional appeal. The singer is expressing how the lover has bound them with their love, both physically and emotionally.
Shreya Ghoshal has sung many Bengali songs some of which are Pherari Mon, Jao Pakhi, Tui Chuli Jokhon, Tomake Chuyye Dilam, Eto Alo, Megher Palok, Chol Rastay and a lot more. Some Hindi songs sung by Shreya Ghoshal are Teri Ore, Bahara, Piyu Bole, Manwa Lage, Jaadu Hain Nasha, Jab Saiyyan, Pal and Mujhe Haq Hain.
Singer - Shreya Ghoshal
Lyrics & Composition - Anupam Roy
Arranged and Programmed by - Shamik Chakravarty Tabla,
Khol - Joydeb Nandi
Sitar - Rahul Chatterjee
Bass- Kaustav Biswas
Recorded by - Shubranil Basu
Mixed and Mastered by - Debojit Sengupta
Movie Credits:
Produced by: Windows
Directed by: Nandita Roy & Shiboprosad Mukherjee
Story & Screenplay: Nandita Roy
Dialogues: Shiboprosad Mukherjee