Jeno Tomari Kache Lyrics (যেন তোমারি কাছে) | Ash King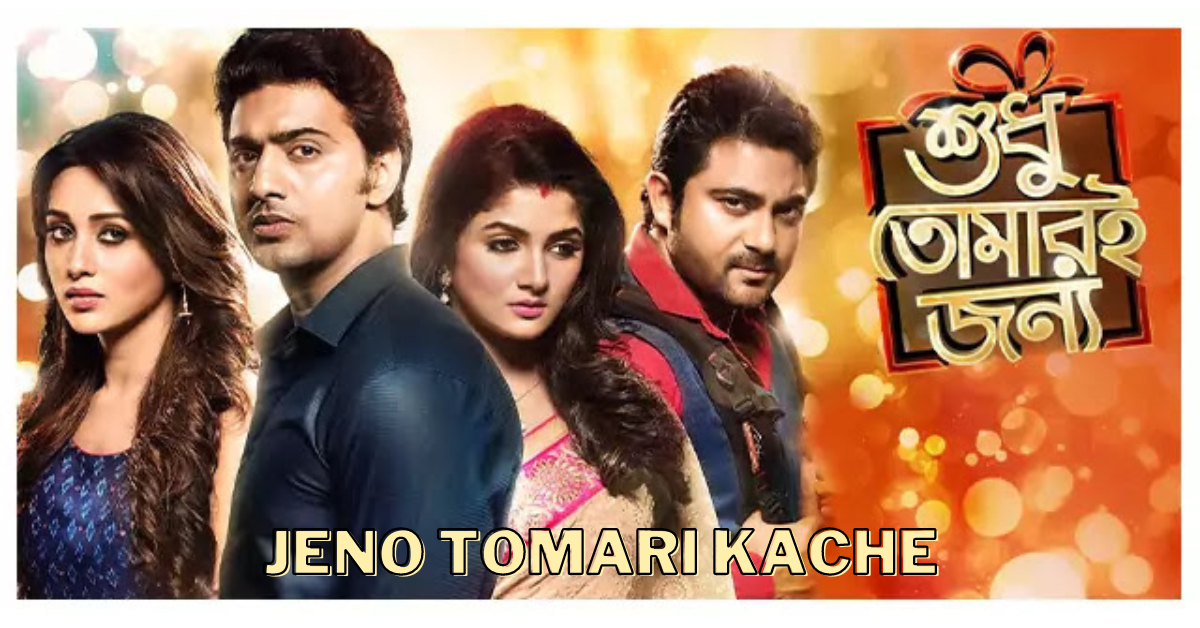 Jeno Tomari Kache Bengali Lyrics

পারে, মন খারাপই পারে
তোমায় ফেরাতে,
এসো, মনের কুল-কিনারে
না হয় বেড়াতে।
ও.. পারে, মন খারাপই পারে
তোমায় ফেরাতে,
এসো, মনের কুল-কিনারে
না হয় বেড়াতে।
মন হলে দাঁড়িয়ে
একবার ডেকো সঙ্গপন,
মোম গোলে হয়েছে আঁধার
জ্বালিয়ে রেখো মন।
যেন তোমারি কাছে
জমে অভিমান আছে,
যেন তোমারি কাছে
জমে অভিমান আছে।।
আজ না হয় কথা থাক
লুকোনো অনুতাপে ঢাকি চোরাকাঁটা আগুন,
আজ শুধুই বলে যাক
চোখের পাতা খুলে রাখি নিদার নিঝুম।
মন বলে
তোমাকে একবার আগলে ছুঁয়ে যাই,
মোম গলানো সন্ধ্যে বার বার
থাকছি ছুঁয়ে তাই।
যেন তোমারি কাছে
জমে অভিমান আছে,
যেন তোমারই কাছে
জমে অভিমান আছে।।
দাও আমায় বলে কোন গোপনে রাখা
মেঘে ঢাকা আকাশের দেশ,
নাও আমার ভিজে মন
সারিয়ে নিতে যদি পারো যত না বিশেষ।
মন হলে দাঁড়িয়ে
একবার ডেকো সঙ্গপন,
মোম গোলে হয়েছে আঁধার
জ্বালিয়ে রেখো মন।
যেন তোমারি কাছে
জমে অভিমান আছে
যেন তোমারি কাছে
জোমে অভিমান আছে।।
About the Song
The Song is from Bengali film Sudhu Tomari Jonno (2015). In this Bengali song, the desire to see someone who has been missed much is portrayed. The vocalist begs the audience to come and be by their side so that they can spend time on the calm shores of their hearts, admitting in the lyrics that the heart may be unhappy or distressed.
The words conjure up pictures of the heart on the verge of breaking under the weight of emotions. The vocalist requests that the audience members express their emotions, get near and grasp their hands, and shine some light into the blackness that has overtaken their hearts. The lyrics provide a picture of a situation in which the listener has touched the singer's heart and there is a feeling of fulfilment and self-worth that results from being connected to them.
The vocalist challenges the audience to be honest with one another, to avoid hiding behind regrets or troubles, and to instead open their eyes to the wonders of the world. The vocalist highlights the value of touch and urges the audience to touch and feel the warmth of their own hearts. The vocalist invites the listener to stay near to them, to hold their hand, and to keep them company in the lyrics, which portray the night as being filled with  memories and feelings.
About the Author of the Song
The singers of this song were Ash King & Somlata Acharyya Chowdhury, and composed by Arindam Chatterjee. This song conveys the writer's readiness to communicate their feelings and up their heart to them as well as a strong longing for the companionship of someone who is much missed.
This song is written by lyricist Prasenjit Mukherjee. Prasen is an Indian lyricist who primarily works in the Bengali film industry. The lyricist in Tollywood grew up in the traditional atmosphere of North Kolkata, Dorjipara and has been writing poems since childhood. Along with his group of friends, he also formed a band called Eldorado in 2002. Having started his career in a feature film with Le Chakka in 2010, he subsequently worked in several films including Shatru (2011), Balukabela.com (2012), Obhishopto Nighty (2014), Romeo Vs Juliet (2015) and Bolo Dugga Mai Ki (2017), a Bengali-language drama directed by Raj Chakraborty. His 2019 releases include Mon Jaane Na and Googly.