Jodi Tor Daak Shune Keu Na Ashe Lyrics | Ekla Cholo Re | যদি তোর ডাক শুনে কেউ না আসে | Rabindra Sangeet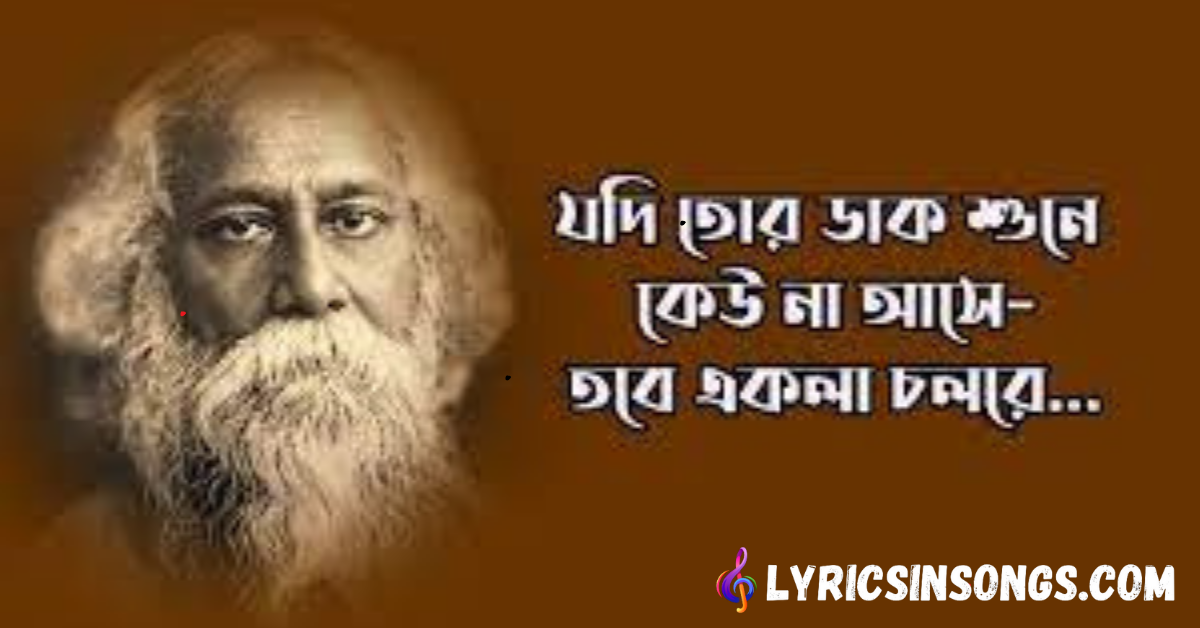 Jodi Tor Dak Shune Keu Na Ashe Lyrics
যদি তোর ডাক শুনে কেউ না আসে
তবে একলা চলো রে (x2)
তবে একলা চলো, একলা চলো,
একলা চলো, একলা চলো রে।
যদি তোর ডাক শুনে কেউ না আসে
তবে একলা চলো রে।
যদি কেউ কথা না কয়,
ওরে ওরে ও অভাগা কেউ কথা না কয়
যদি সবাই থাকে মুখ ফিরায়ে সবাই করে ভয়,
যদি সবাই থাকে মুখ ফিরায়ে সবাই করে ভয়,
তবে পরান খুলে
ও তুই মুখ ফুটে তোর মনের কথা একলা বলো রে,
ও তুই মুখ ফুটে তোর মনের কথা একলা বলো রে,
যদি তোর ডাক শুনে কেউ না আসে
তবে একলা চলো রে।
যদি সবাই ফিরে যায়,
ওরে ওরে ও অভাগা সবাই ফিরে যায়
যদি গহন পথে যাবার কালে কেউ ফিরে না চায়,
যদি গহন পথে যাবার কালে কেউ ফিরে না চায়
তবে পথের কাঁটা
ও তুই রক্তমাখা চরণতলে একলা দলো রে,
ও তুই রক্তমাখা চরণতলে একলা দলো রে
যদি তোর ডাক শুনে কেউ না আসে
তবে একলা চলো রে।
যদি আলো না ধরে,
ওরে ওরে ও অভাগা আলো না ধরে
যদি ঝড়-বাদলে আঁধার রাতে দুয়ার দেয় ঘরে,
যদি ঝড়-বাদলে আঁধার রাতে দুয়ার দেয় ঘরে,
তবে বজ্রানলে
আপন বুকের পাঁজর জ্বালিয়ে নিয়ে একলা জ্বলো রে,আপন বুকের পাঁজর জ্বালিয়ে নিয়ে একলা জ্বলো রে
যদি তোর ডাক শুনে কেউ না আসে
তবে একলা চলো রে।
Meaning of Jodi Tor Dak Shune Keu Na Ashe Lyrics
Jodi tor dak shune keu na ashe lyrics meaning  is a call from the poet's heart to the divine, asking if the listener can hear his plea. The lyrics ask whether the listener can hear the poet calling out to them from the depths of his soul.
The song is often interpreted in a spiritual context, and its themes of year and longing for a higher plane are universal. It is a plea for guidance and support from a source, and a reminder that we are all part of something greater than ourselves.
Overall, the song is a celebration of the human spirit, and a reminder that our deepest desires and hopes are, and connect us all across the boundaries of time and space. Gurudev Rabindranath Tagore was a Bengali polymath who worked as a poet, writer, playwright, composer, philosopher, social reformer and painter.
About the Author of the Song
Rabindra nath Tagore wrote the song jodi tor dak shune.It was released in 1999.The inspiration behind this song and many other works by Rabindranath Tagore reflects the deep connection to the human experience and his desire to capture the beauty and complexity of life through his writing.
Musical Elements of the Song
The instruments used are sitar, tabla, harmonium, and sarod, as well as Western instruments like guitar. The song may also be sung with simple accompaniment such as a single  (a stringed instrument used to maintain the drone) or unaccompanied.
The melody of the song is based on the Indian classical scale known as Bhair, with the use of  and  (bends) to create a sense of movement momentum. The rhythm creates tension and release, subtly shifting the beat and adding an element of surprise.
Cultural Impact of the Song
The song's emotional depth, simple yet impactful lyrics, and melody have made it a classic among Bengali music.Critics and music enthusiasts often praise the song for its timeless appeal and universality. The song has been covered by several artists including: Kish Kumar, Hemanta Mukherjee, Shreya Ghoshal, A.R. Rahman.
The song has been used in films, TV shows, and commercials including Namesake, Kahaani, Bajirao Mastani and ads like Coca-Cola ad.
Song name : Ekla Cholo Re
Lyrics & Music : Rabindranath Tagore
Singer : Anupam Roy
Arrangement and guitar : Santanu Datta
Additional Programming : Shamik Chakravorty
Guitar Recorded by Subhranil Basu @Sonic Solution
Vocals Recorded by Goutam Basu @Studio Vibrations
Mixed & Mastered by Goutam Basu
Special Thanks Prattyush Banerjee & Soumya Datta