Ferari Mon Lyrics | ফেরারি মন | Shreya Ghoshal & Babul Supriyo | Antaheen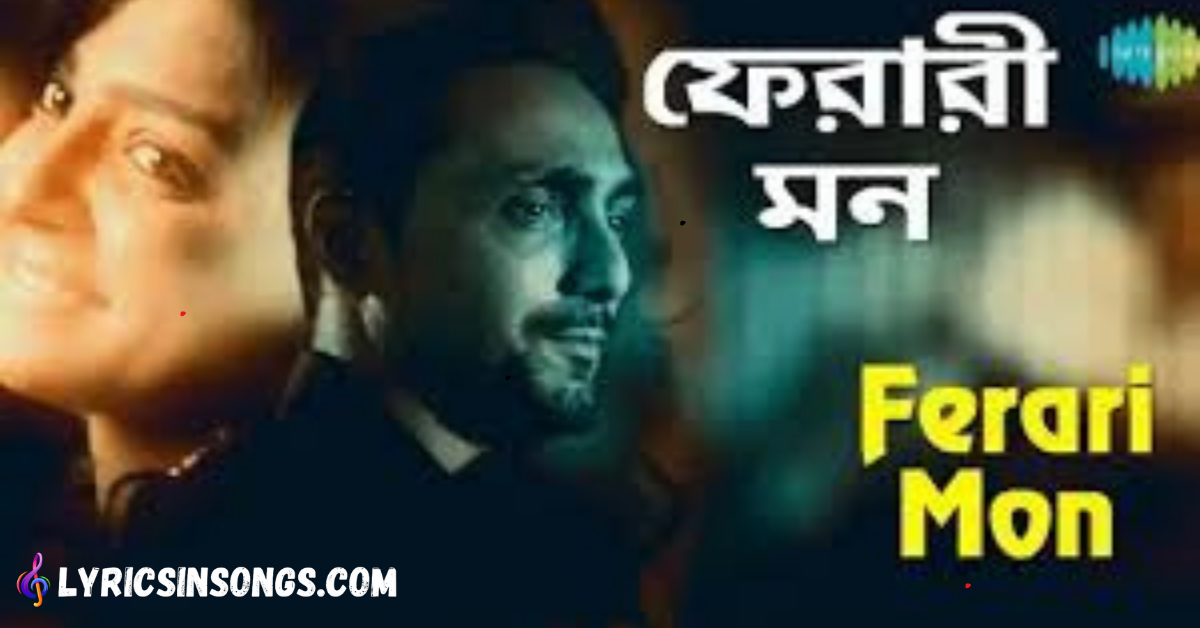 Ferari Mon Lyrics
আলো আলো রঙ জমকালো চাঁদ ধুয়ে যায়
চেনা শোনা মুখ জানা শোনা হাত ছুঁয়ে যায়
ফিরে ফিরে ঘুম ঘিরে ঘিরে গান রেখে যায়
কিছু মিছু রাত পিছু পিছু টান ডেকে যায়
আজও আছে গোপন ফেরারি মন
বেজে গেছে কখন সেই টেলিফোন
হু.. চেনা শোনা মুখ জানা শোনা হাত রেখে যায়
ফিরে ফিরে ঘুম ঘিরে ঘিরে গান ডেকে যায়
আজও আছে গোপন ফেরারি মন
বেজে গেছে কখন সেই টেলিফোন
ছোট ছোট দিন আলাপে রঙিন নুড়ির মতন
ছোট ছোট রাত চেনা মৌতাত পলাশের বন
আহা অগোছালো ঘর খড়-কুটোময় চিলেকোঠা কোন
আহা হা আহাহা.. (x2)
কথা ছিল হেঁটে যাব ছায়াপথ..
হু.. ফেরারি মন
বেজে গেছে কখন সেই টেলিফোন
কিছু মিছু রাত পিছু পিছু টান অবিকল
আলো আলো রঙ জমকালো চাঁদ ঝলমল
আজও আছে গোপন ফেরারি মন
বেজে গেছে কখন সেই টেলিফোন
গুঁড়ো গুঁড়ো নীল রঙ পেন্সিল জোছনার জল
ঝুরো ঝুরো কাঁচ আগুন ছোঁয়া আজ ঢেকেছে আঁচল
আহা ফুটপাথ এ ভিড় জাহাজের ডাক ফিরে চলে যায়
আহা হা আহাহা.. (x2)
কথা ছিল হেঁটে যাব ছায়াপথ
আজও আছে গোপন ফেরারি মন
বেজে গেছে কখন সেই টেলিফোন
আলো আলো রঙ জমকালো চাঁদ ধুয়ে যায়
চেনা শোনা মুখ জানা শোনা হাত ছুঁয়ে যায়
আজও আছে গোপন ফেরারি মন
বেজে গেছে কখন সেই টেলিফোন..
Meaning of Ferari Mon Lyrics
The first verse talks about how the person's loved one has a beautiful face and hands that they love to hold. The person is caught up in their memories and feels like they are spinning around and around while listening to songs and experiencing the different moods of the night.
The chorus of the song talks about how the person's heart is in a state of restlessness and longing for their loved one. They feel like they are still connected to them, even though they are not physically present. When the telephone rings, it symbolically represents the longing of the loved one to be able to contact them.
It can be seen from the second verse that the person is reminded of the colorful and vibrant days and nights they spent with their loved ones back in the days when they were young. Their memories of happy times and beautiful places they have enjoyed together while they were growing up are brought to their minds.
A section of the bridge of the song talks about how the person is willing to do anything to reunite with their loved one and be with them again in order to be with them once again. For them, no matter what path they take and whatever obstacles they have to overcome, they will take it to stay by their side.
The final verse talks about how the person is reminded of the different colors of life and how everything changes with time. They remember the different shades of blue, like the color of a pencil or the color of water, and the burning fire that they felt with their loved one. The song ends in a similar manner to how it began, with the person's longing and nostalgia for their loved one still burning brightly.
About the Author of Ferari Mon Lyrics
The song is titled "Ferari Mon" and is written and sung in the Bengali language. It is a romantic and nostalgic song that talks about the emotions and feelings of a person who is reminiscing about past memories with their loved one. This song is a soundtrack from the Bengali movie Antaheen which was released in 2008. This beautiful song is still a favorite for a lot of Bengali people and is sung by the famous singers Shreya Ghoshal and Babul Supriyo. Some similar songs are Jao Pakhi, Shokal Ashe Na, Akasheo Olpo Neel and RimJhim E Dhara Te.
Film : Antaheen
Song : Pherari Mon
Singer : Shreya Ghoshal, Babul Supriyo
Music Director : Shantanu Moitra
Lyricist : Anindya Chattopdhyay, Chandril Bhattacharya
Starcast : Sharmila Tagore, Aparna Sen, Kunal Roy, Rahul Bose, Radhika Apte