Tomay Gaan Shonabo Lyrics | তোমায় গান শোনাবো | Rabindra Sangeet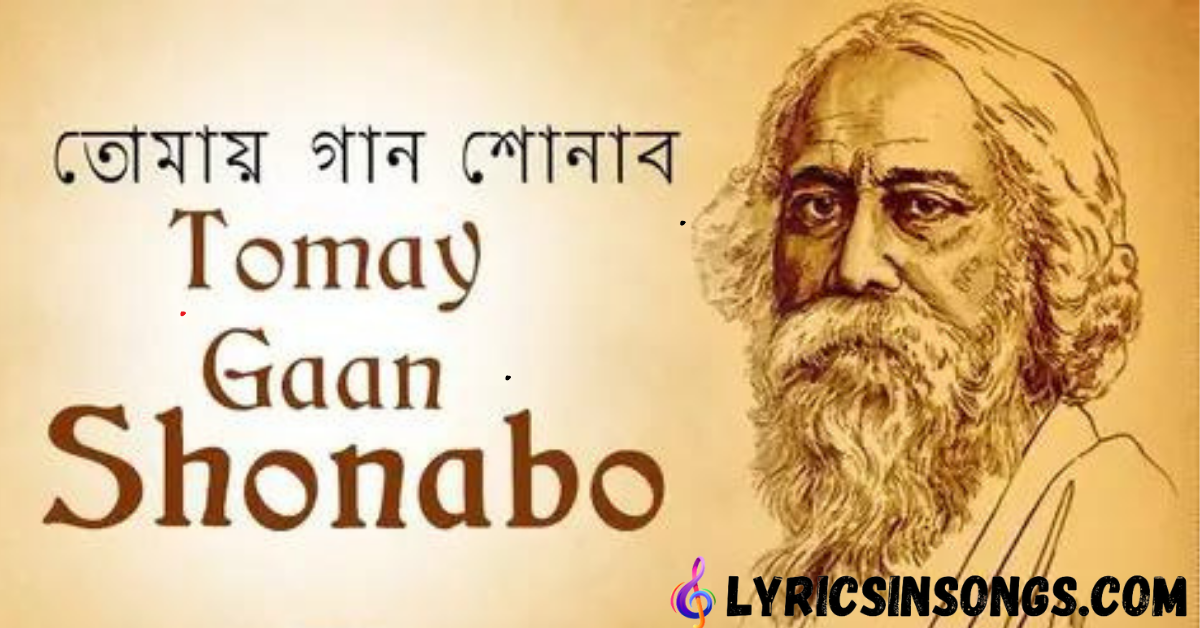 Tomay Gaan Shonabo Lyrics
তোমায় গান শোনাবো
তাই তো আমায় জাগিয়ে রাখো
ওগো ঘুম-ভাঙানিয়া
তোমায় গান শোনাবো।
চমক দিয়ে তাই তো ডাকো,
বুকে চমক দিয়ে তাই তো ডাকো
ওগো দুখজাগানিয়া..
তোমায় গান শোনাবো।
এলো আঁধার ঘিরে, পাখি এল নীড়ে
তরী এল তীরে
বুঝি আমার হিয়া বিরাম পায় নাকো
ওগো দুখজাগানিয়া..
তোমায় গান শোনাবো।
আমার কাজের মাঝে মাঝে
কান্না ধারার দোলা তুমি থামতে দিলে না যে।
আমার কাজের মাঝে মাঝে
আমার পরশ করে প্রাণ সুধায় ভরে
তুমি যাও যে সরে
বুঝি আমার ব্যথার আড়ালেতে দাঁড়িয়ে থাকো
ওগো দুখজাগানিয়া..
তোমায় গান শোনাবো।
Meaning of  Tomay Gaan Shonabo Lyrics
Tomay gaan shonabo lyrics are filled with beautiful imagery and metaphors, which are characteristic of Tagore's writing. The line "Elo adhar ghire, pakhi elo nirey, Tori elo tire, Sudhu amar hiya biram pay nako" expresses that "The birds have come down to the water as the evening falls, and you have come to the shore. Don't let my heart be restless." Tomay gaan shonabo lyrics  line is rich in imagery and speaks about the beauty of nature and the protagonist's desire for peace and tranquillity.
The music of the song is equally enchanting. The melody is soft and soothing, and it perfectly complements the lyrics. The use of traditional Indian instruments like the tabla and the sitar adds an element of authenticity to the song, making it a true masterpiece.
"Tomay Gaan Shonabo, Tai To Amay Jagiye Rakho'' is a perfect example of the Rabindra Sangeet genre. The songs in this genre are characterized by their use of complex melodies, poetic lyrics, and a deep sense of emotion. Rabindra Sangeet is considered one of the most important forms of Indian classical music, and it has played a significant role in shaping the cultural landscape of Bengal.
In conclusion, "Tomay Gaan Shonabo, Tai To Amay Jagiye Rakho'' is a beautiful Rabindra Sangeet that captures the essence of love and devotion. It's simple yet profound lyrics and enchanting music make it a timeless classic that has touched the hearts of millions. Tomay gaan shonabo lyrics  is a true testament to the power of music and the lengths we are willing to go to express our emotions.
About the Author of the Song
"Tomay Gaan Shonabo, Tai To Amay Jagiye Rakho '' is a Rabindrasangeet, a genre of music created by the legendary Bengali poet and musician, Rabindranath Tagore. The song, which is one of Tagore's most popular compositions, has been covered by numerous artists over the years, and its popularity shows no signs of diminishing. Tomay gaan shonabo lyrics is sung by Somlata Acharyya Choudhury in the movie "Balukabela.com" directed by Partha Sen, in the year 2012.
Tomay gaan shonabo lyrics of the song are simple yet profound, and they speak about the protagonist's desire to sing for their beloved. The title of the song can be translated to mean "I will sing for you, so please keep me awake." The protagonist expresses their willingness to stay up all night singing for their beloved and their desire to express their love and devotion through music.
Vocals : Sonu Nigam
Lyrics & Composition : Rabindranath Tagore
Music Produced & Arranged By : Shom Chaterjjee
Flute : Varad Kathapurkar
Vocals Recorded @ SoundideaZ by Pramod Chandorkar
Flute Recorded @ SoundideaZ by Vinayak Pawar
Mixed & Mastered @ SoundideaZ by Pramod Chandorkar
These are some various versions and adaptations of on platform like YouTube. These are some links off the songs that have been provided here :