Ki Kore Bolbo Tomay Lyrics | কি করে বলবো তোমায় | Papon | Palak Muchhal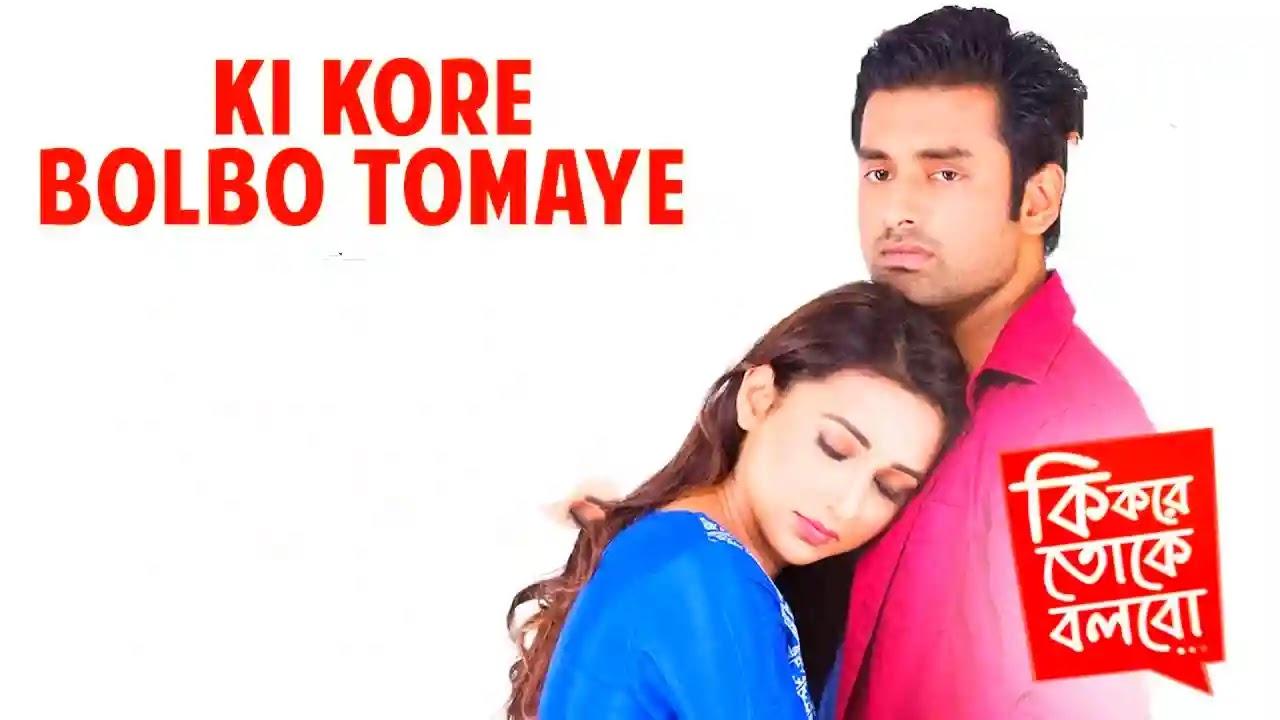 Ki Kore Bolbo Tomay Lyrics
কি করে বলবো তোমায়
আসলে মন কি যে চায়,
কেনও সে পালিয়ে বেড়ায়
তোমার থেকেই (x2)
তুমি জানতে পারোনি
কত গল্প পুড়ে যায়,
তুমি চিনতে পারোনি,
আমাকে হায়।
কি করে বলব তোমায়
আসলে মন কি যে চায়,
কেনও সে পালিয়ে বেড়ায়
তোমার থেকেই।
পথ ভুলে গেছি চলে দূরের কুয়াশায়
তবু আমার ফিরে আসার,
সত্যি নেই উপায়।
তুমি আমার জিতের বাজী
তুমি আমার হার,
কি করে বলব তোমায়
আসলে মন কি যে চায়,
কেনও সে পালিয়ে বেড়ায়
তোমার থেকেই।
যদি বলি চোরাগলি
মনের যায় কোথায়,
আসবে কি? রাখবে কি?
তোমার ওঠা পড়ায়।
তুমি আমার জ্বালিয়ে নেওয়া,
কোন শুকতারা,
কি করে বোলবো তোমায়
আসলে মন কি যে চায়,
কেনও সে পালিয়ে বেড়ায়
তোমার থেকেই .
তুমি জানতে পারোনি
কত গল্প পুড়ে যায়,
তুমি চিনতে পারোনি,
আমাকে হায়।
কি করে বলব তোমায়
আসলে মন কি যে চায়,
কেনও সে পালিয়ে বেড়ায়
তোমার থেকেই।
Movie - Ki Kore Toke Bolbo (2016)
Song: Ki kore bolbo tomay (কি করে বলবো তোমায়)
Singers - Palak Muchhal & Papon
Music Composer - Jeet Ganguly
Lyrics - Prasen
Directed by - Rabi Kinagi
Produced by - Shrikant Mohta
Production - Shree Venkatesh Films
Meaning of the Song Ki Kore Bolbo Tomay
The song "ki kore bolbo tomay "or (কি করে বলবো তোমায়) means; "in what way can I tell you". The song is based on the movie where the male actor (Ankush) expresses his feelings toward the female actor (Mimi) and asks her how he's going to tell her about what he feels in his heart.
By saying "আসলে মন কি যে চায়," the person means that what his heart actually desires. "কেনও সে পালিয়ে বেড়ায়" tells why it keeps trying to escape, "তোমার থেকেই" from you.
The Composition of the Song
The music is being composed by famous Bengali composer Jeet Ganguly. While composing the music he used several instruments like Drums, bass, electric synthesizer, violin and piano. Everything was perfectly mixed and mastered and combined with the beautiful song which gives a heart-wrenching sensation to the listeners.
About the Ki Kore Bolbo Tomay Song
Ki kore bolbo tomay lyrics are from the famous Bengali song from the film ki kore bolbo tomay (কি করে বলবো তোমায়) which was released on 2016. The film is a romantic drama directed by Rabi Kinagi and produced by Srikant Mohta. The song ki kore bolbo tomay was originally sung by Papon & Palak Muchal which was later covered by Arijit Singh.
The singer of this song Papon, also known as Angaraag Mahanta, is a well-known singer and composer from Assam, India, who sings in a number of languages, including Bengali. His debut album, "Junaki Raati," helped him acquire popularity, and his heartfelt singing and original blend of folk, rock, and electronic music helped him become well-known. The National Film Award for Best Music Direction and the Filmfare Award for Best Playback Singer are only two of the accolades that Papon has received for his music. On many music reality shows, he has furthermore participated as a judge.
These are some various versions and adaptations of his songs on platform like YouTube. These are some links off the songs that have been provided here :