Sei Raate Raat Chilo Purnima Lyrics (সেই রাতে রাত ছিল পূর্ণিমা) | Kishore Kumar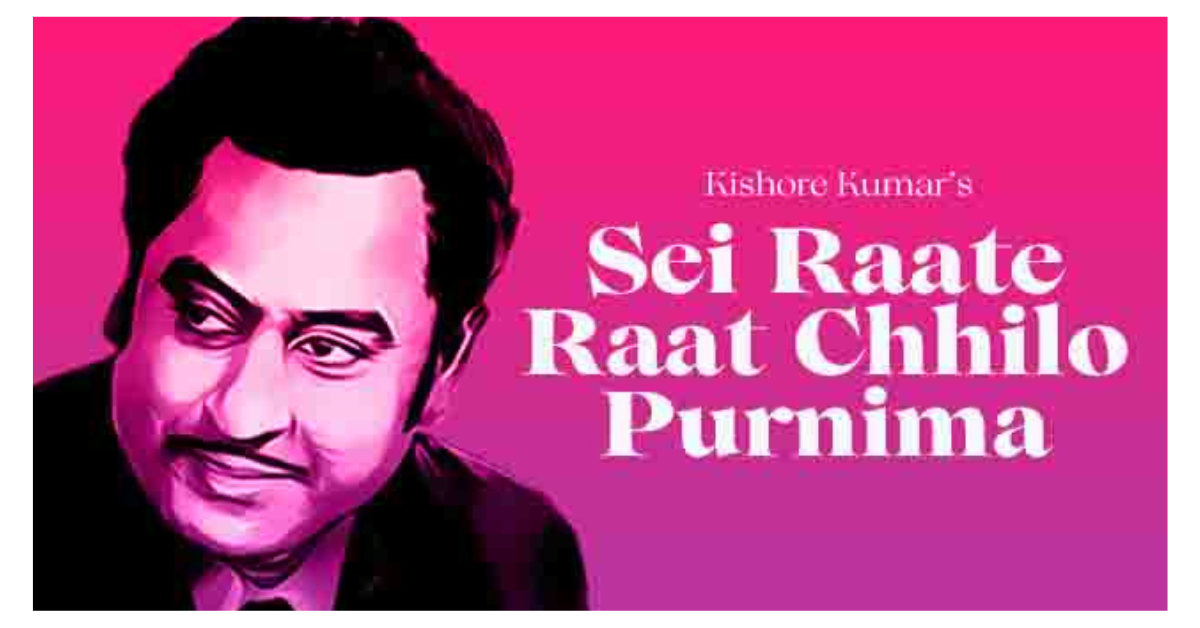 Sei Raate Raat Chilo Purnima Lyrics
সেই রাতে রাত ছিল পূর্ণিমা
রঙ ছিল ফাল্গুনি হাওয়াতে,
সেই রাতে রাত ছিলো পূর্ণিমা
রঙ ছিলো ফাল্গুনি হাওয়াতে,
সব ভালো লাগছিলো চন্দ্রিমা
খুব কাছে তোমাকে পাওয়াতে।
মন খুশি উর্বশী সেই রাতে
সুর ছিলো গান ছিলো এই প্রাণে,
ঐ দুটি হাত ছিলো এই হাতে
কি কথা বলছিলে মন জানে।
সব ভালো লাগছিলো তুমি ছিলে তাই
মন ছিলো মনেরই ছায়াতে।
সেই রাতে রাত ছিল পূর্ণিমা
রঙ ছিল ফাল্গুনি হাওয়াতে।
জুজু জু জু..
রাত আসে রাত চলে যায় দূরে
সেই স্মৃতি ভুলতে কি আজ পারি,
পুরানো দিন আছে মন জুড়ে
ভালোবাসা হয়েছে ভিখারী।
ধূপকাঠি মন জ্বলে একা একা তাই
সেই তুমি নেই তুমি নেই সাথে।
সেই রাতে রাত ছিল পূর্ণিমা
রঙ ছিল ফাল্গুনি হাওয়াতে,
সব ভালো লাগছিল চন্দ্রিমায়
খুব কাছে তোমাকে পাওয়াতে।

Song: Sei Raate Raat Chhilo Purnima
Film: Favourites All : Bengali Songs
Singer: Kishore Kumar
Music Director: Kishore Kumar
Lyricist: Shibdas Banerjee
Meaning of Sei Raate Raat Chilo Purnima Song
The lyrics describe a beautiful night of the full moon in the month of Falgun (February/March in the Bengali calendar) and the singer's longing to be with their beloved. There is a remarkable sense of happiness and contentment in the singer's descriptions of this night, with the moonlight and the music adding to the euphoria of the situation. Among all the other aspects of the song is the description of the warmth and comfort that comes from holding hands with a loved one and feeling their presence.
When the night ends and memories are made, the singer wonders if they will be able to recall this moment in their future, as the night ends and memories are made. In the song, the singer also speaks of the power of love, and how that power has transformed him or her into a beggar of love, and how they are incomplete without the one whom they love. Overall, the song is a beautiful and romantic expression of the joys of being in love and the longing to be with one's beloved.
About the song Sei Raate Raat Chilo Purnima
"Sei Raate Raat Chilo Purnima" written and composed by music legend Hemanta Mukherjee. The song Sei Raate Raat Chilo Purnima was released in 1986 and has won the hearts of millions of Bengalees since then. The legend has given us many soulful songs that we still love to hear. There are many genres in which he was an artist, including Bengali and Hindi film music, Rabindra Sangeet, and many others. Hemanta Mukherjee was a hit during his era but there were other artists as well whose soulful songs made our hearts flutter. There are two National Excellence Awards for Best Male Playback Singer that he received as a result of performing under his own name and he was also known as "The Voice of God. Throughout the years, several artists have covered the song, and it has become a classic.
Some other classics that has been a hit in every Bengali house ever since it has released are Ei Raat Tomar Amar, Ke Jage, Amay Proshno Kore Neel Dhrubo Tara, Ei Poth Jodi Na Sesh Hoy, Ei Meghla Dine Ekla, Poth Harabo Bolei Ebar Pothe Nemechi, Ami Dur Hote Tomarei Dekhechi, Aaj Dujoner Duti Poth, O Nadire Ekta Kotha Sudhai Sudhu Tomare, Shono Kono Ekdin and many more.
These are some various versions and adaptations of his songs on platform like YouTube. These are some links off the songs that have been provided here :