Dugga Elo Lyrics (দুগ্গা এলো) Monali Thakur | Durga Puja Song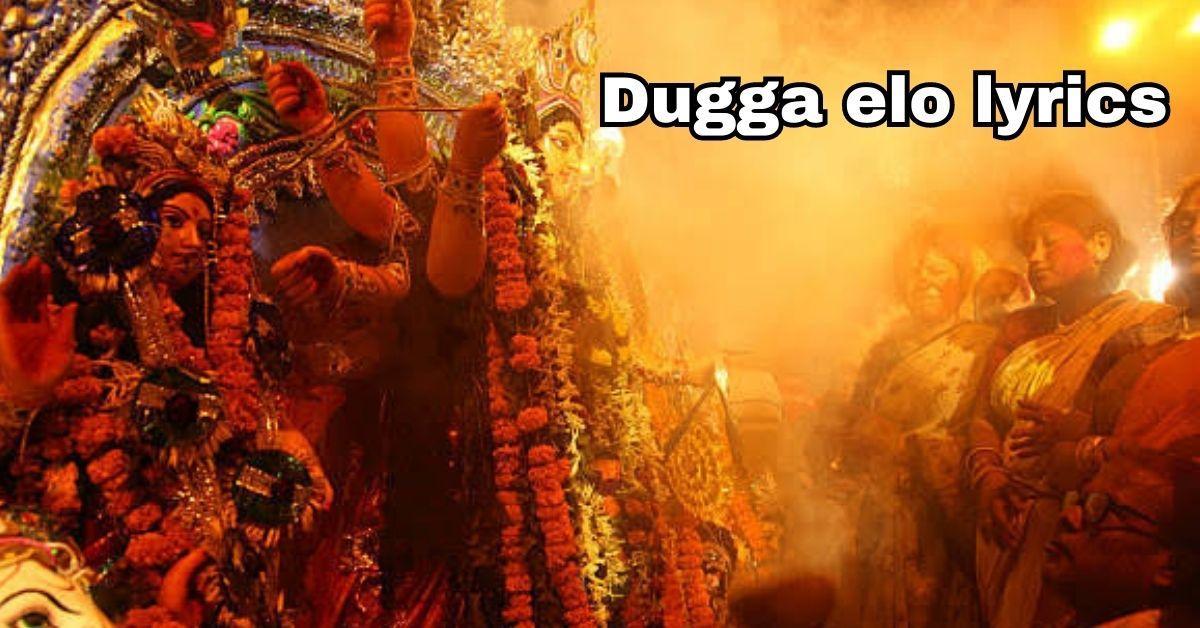 Dugga Elo Lyrics
দেখ মন, কাশ বন দুলছে যে সারি,
কবে ঢাক, দেবে ডাক
দিন গুনছে যে তারই।
শিউলি মাখা গল্প, আগমনীর সুর
কুমারটুলির গন্ধ ছড়ালো ..
বলো বলো দুগ্গা এলো,
বলো বলো দুগ্গা এলো..
রাতভোর তোড়জোড়
কত উৎসবে মাখা,
টই-টই হৈ-চৈ সব ঠিক করে রাখা,
করে বিষাদে আড়ি
মেতে আড্ডায় ভরপুর,
বোধনের রং প্রাণে ছড়ালো ..
বলো বলো দুগ্গা এলো,
বলো বলো দুগ্গা এলো..
চারদিন প্ল্যানিং
আজ ফুর্তিতে ঠাসা,
বৈঠক থেকে রাগ
সব হুল্লোড়ে ভাসা।
ধুনুচির ছন্দে সে জে হৃদয়ের তাল
হবে ষষ্ঠীতেই শুরু চলো ..
বলো বলো দুগ্গা এলো,
বলো বলো দুগ্গা এলো..
Song : Dugga Elo
Singer : Monali Thakur
Composer : Guddu
Lyricist : Indranil Das
Music Production : Shubhadeep Mitra & Kaushik
Acoustic and Electric Guitar : Aditya Shankar
Dotara and Charangoo : Tapas Roy
Dhak : Prafulla Das
Music on : Zee Music Company
Meaning of Durga Elo Song
The song begins with the line "Dugga Elo," which means "Durga has arrived." The next line of the song is "Bisorjoner din guli," which means "The days of immersion." The song goes on to describe the beauty and magnificence of the goddess and the joy and excitement that her arrival brings.
The song has a distinctive rhythm and melody that is instantly recognizable. It is usually accompanied by the sound of dhak, a traditional Bengali drum, which adds to the song's energy and excitement. The use of the dhak is an integral part of Durga Puja celebrations, and its sound is believed to invoke the goddess's blessings.
As the song progresses, the lyrics describe various aspects of the goddess's form and attributes, such as her ten arms, her trident, and her victory over the buffalo demon Mahishasura. The lyrics also make reference to the festive atmosphere of the Durga Puja festival, with lines such as "The sky is full of kites, the drums are beating," and "The streets are filled with crowds, the lamps are burning bright."
Throughout the song, the singer expresses deep reverence and devotion to Goddess Durga, asking for her blessings and protection. The final lines of the song, "Bolo Dugga Mai Ki Jai," which translates to "Say victory to Mother Durga," serve as a fitting conclusion to the song, invoking the spirit of triumph and celebration that is central to the Durga Puja festival.
In conclusion, Dugga Elo is a timeless devotional song that captures the essence of Durga Puja. Its infectious beats and simple lyrics have made it a favorite among Bengalis across the world. It is a cultural symbol that connects people to their roots and their faith and celebrates the goddess's arrival with joy and festivities.
About the Author of the Song Durga Elo
Dugga Elo Song Is Sung by Monali Thakur Durga Puja Song 2019. Music Composed by Guddu. Song Mixing and Mastering by Zafar Iqubal Ansari. Bolo Bolo Dugga Elo Song Lyrics Written by Indranil Das. Dugga Elo is a popular Bengali folk song that has been sung and celebrated for many years in the eastern part of India. The song is associated with the Durga Puja festival, which is the biggest and most widely celebrated festival in West Bengal, India. Durga Puja is a celebration of the victory of good over evil, and the Dugga Elo song is a tribute to the goddess Durga and her arrival on earth.