Lal Paharer Deshe Ja Lyrics (লাল পাহাড়ের দেশে যা) | Bhoomi Band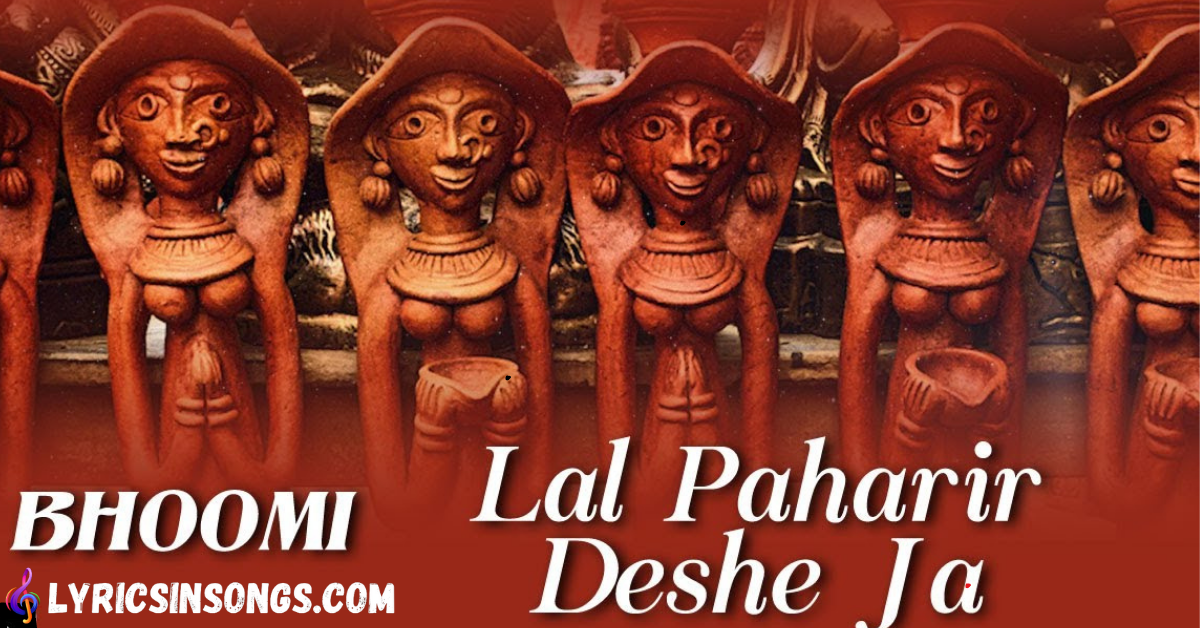 Lal Paharir Deshe Ja Lyrics
ও নাগর, ও নাগর,
ও নাগর, ইক্কেবারে মানাইছেনা রে।
লাল পাহাড়ির দেশে যা,
রাঙা মাটির দেশে যা,
হিতাক তোকে মানাইছেনা রে,
ইক্কেবারে মানাইছেনা রে।
লাল পাহাড়ি দেশে যাবিহাঁড়িয়া আর মাদল পাবি,
মেয়ে মরদের আদর পাবি রে
ও নাগর, ও নাগর,
ও নাগর, এক্কেবারে মানাইছেনা রে।
লাল পাহাড়ের দেশে যা,
রাঙা মাটির দেশে যা,
হিতাক তোকে মানাইছেনা রে,
এক্কেবারে মানাইছেনা রে।
নদীর ধারে শিমুলের ফুল,
নদীর ধারে শিমুলের ফুল
নানা পাখির বাসা রে
নানা পাখির বাসা।
সকালে ফুটিবে ফুল,
সকালে ফুটিবে ফুল
মনে ছিল আশা রে, এমন ছিলো আশা।
তুই ভালোবেসে গেলি চলে..
ভালোবেসে গেলি চলে,
কেমন বাপের ব্যাটা রে তুই,
কেমন বাপের ব্যাটা।
লাল পাহাড়ি দেশে যা,
রাঙ্গা মাটির দেশে যা,
ইতাক তোকে মানাইছেনা রে,
এক্কেবারে মানাইছেনা রে।
ভাদর মাসে ভাদু পূজা
ওরে ভাদর মাসে ভাদু পূজা, ভাদু পূজা।
ভাদর মাসে ভাদু পূজা
ভাদু গানের ঘটা রে, ভাদু গানের ঘটা।
ঐ কালো মেয়েটার মন মজেছে,
ঐ কালো মেয়েটার মন মজেছে,
গলায় দিবো মালা রে
তার গলায় দিবো মালা।
তুই মরবি তো মরে যা, ইক্কেবারে মরে যা
মরবি তো মরে যা, ইক্কেবারে মরে যা
হিতাক তোকে মানাইছেনা রে,
ও নাগর, ও নাগর,
ও নাগর, ইক্কেবারে মানাইছেনা রে।
লাল পাহাড়ির দেশে যা,
রাঙা মাটির দেশে যা,
হিতাক তোকে মানাইছেনা রে,
ইক্কেবারে মানাইছেনা রে..
Meaning of Lal Paharir Deshe Ja Lyrics
Lal Paharir Deshe Ja Lyrics first two words, "Lal paharir deshe ja, ranga matir deshe ja," encourage listeners to travel to both the country of the red hills (perhaps alluding to certain regions of West Bengal) and the world of colour (possibly referring to other parts of India). Colors are used to emphasise the beauty and diversity of India's many regions.
Lal Paharir Deshe Ja Lyrics next two lines, "Hitak toke manaichena re, Ikkebare manaichena re," imply that although the locals may not be aware of the visitors' presence or acknowledge them, they shouldn't let that stop them from exploring. The song's closing lyric, "O nagor Ekkebare manaichena re," supports the notion that locals might not pay attention to outsiders but also expresses hope for a city (nagor) where people from many origins and cultures can live.
The phrases that follow, "Lal paharer deshe jabi, hariya aar madol pabi, meye moroder ador pabi re," imply that one will enjoy the thrill of learning new things if they visit the area of the red hills. The mention of a "madol," a Bengali traditional musical instrument, implies that music and art are fundamental to the culture of the area.
One of the song's most important effects has been to increase awareness of the diversity and beauty of India's many regions. The song promotes exploring and appreciating various areas of the nation while highlighting the distinctive features of each locale. This has facilitated cross-regional tourism and cultural exchange in India.
The song's contribution to fostering harmony and social cohesion has had an additional effect. The song's lyrics place a strong emphasis on the concept that individuals from various places and racial origins may coexist happily. India as a whole has responded positively to this message, which has aided in fostering a sense of pride and oneness among the people.
About the Author of the Song
Lal Paharir Deshe Ja is sung by Soumitra Ray of the Bhoomi Band. Lal Paharir Deshe Ja lyrics is from the album Isspecial by Bhoomi Band. Usha Uthup, Iman Chakraborty, Bishwanath Adhikary, and many other different artists all sing the same song in their own unique styles. Sanchita Jana from Let's Dance With GDA performed a dance cover of Lal Paharer Deshe Jaa and dance steps.
Through promoting Bengali music and culture, the song has also had an influence on culture. The song's composer and performer, Bhoomi, is a well-known Bengali band that is credited with reviving West Bengal's traditional music. The song's usage of a traditional instrument called a "madol" has contributed to preserving and promoting Bengali music's legacy.
Laal Paharir Deshe Ja has had a significant influence on Bengali and Indian culture overall. It has served as a treasured and enduring cultural landmark by fostering tourism, preserving traditional music, and fostering social cohesion.
Music Director: Traditional
Composer: Traditional
Lyricist: Traditional
Music  Publisher: Times Music
These are some various versions and adaptations of lal paharir deshe ja songs on platform like YouTube. These are some links off the songs that have been provided here :