Mor Bhabonare Ki Haway Matalo Lyrics | মোর ভাবনারে কী হাওয়ায় মাতালো | Rabindra Sangeet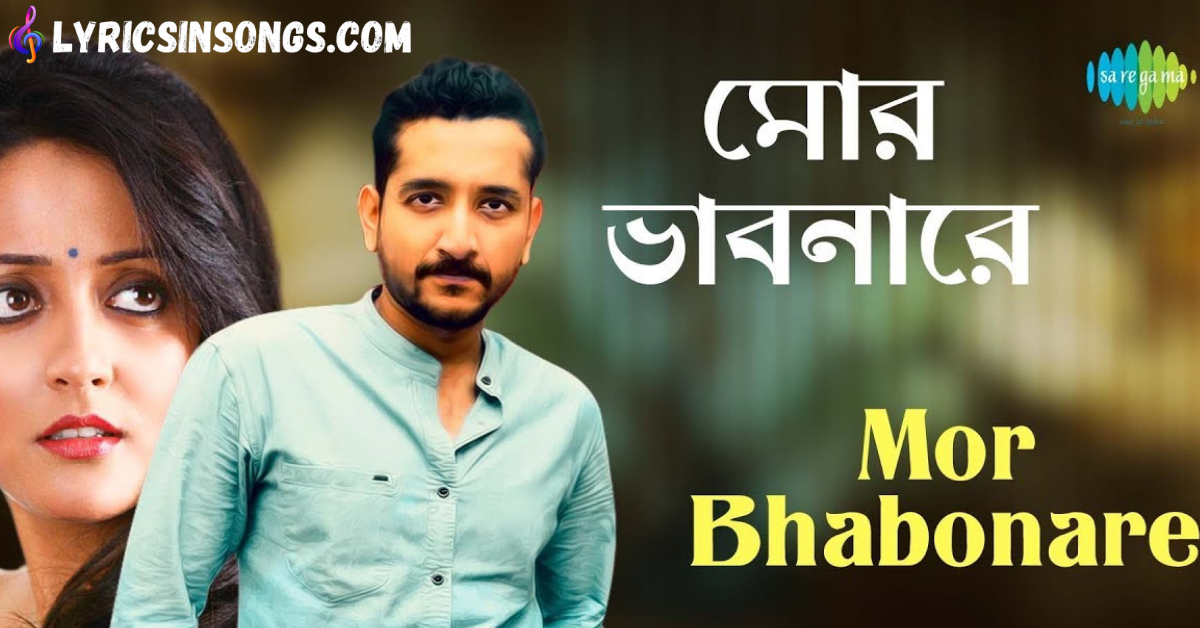 Mor Bhabonare Ki Haway Matalo Lyrics
মোর ভাবনারে কী হাওয়ায় মাতালো
দোলে মন দোলে অকারণ হরষে
মোর ভাবনারে কী হাওয়ায় মাতালো
দোলে মন দোলে অকারণ হরষে
হৃদয়গগনে সজল ঘন নবীন মেঘে
রসের ধারা বরষে
মোর ভাবনারে কী হাওয়ায় মাতালো
দোলে মন দোলে অকারণ হরষে
তাহারে দেখি না যে দেখি না,
শুধু মনে মনে ক্ষণে ক্ষণে
ওই শোনা যায়
তাহারে দেখি না যে দেখি না,
শুধু মনে মনে ক্ষণে ক্ষণে
ওই শোনা যায়
বাজে অলখিত তারি চরণে
বাজে অলখিত তারি চরণে
রুনুরুনু রুনুরুনু নূপুরধ্বনি
মোর ভাবনারে কী হাওয়ায় মাতালো
দোলে মন দোলে অকারণ হরষে
গোপন স্বপনে ছাইল
অপরশ আঁচলের নব নীলিমা
গোপন স্বপনে ছাইল
অপরশ আঁচলের নব নীলিমা
উড়ে যায় বাদলের এই বাতাসে
তার ছায়াময় এলো কেশ আকাশে
তার ছায়াময় এলো কেশ আকাশে
সে যে মন মোর দিল আকুলি
সে যে মন মোর দিল আকুলি
জল-ভেজা কেতকীর দূর সুবাসে.
মোর ভাবনারে কী হাওয়ায় মাতালো
দোলে মন দোলে অকারণ হরষে
মোর ভাবনারে কী হাওয়ায় মাতালো
দোলে মন দোলে অকারণ হরষে
হৃদয়গগনে সজল ঘন নবীন মেঘে
রসের ধারা বরষে
মোর ভাবনারে কী হাওয়ায় মাতালো
দোলে মন দোলে অকারণ হরষে
Meaning of Mor Bhabonare Ki Haway Matalo Lyrics
Mor bhabonare ki haway matalo lyrics describes the experience of the protagonist who is deeply enamored by someone, and the feeling of love is making him lose his senses. The song begins with the protagonist saying that the wind is blowing, and it is making his thoughts sway. In his mind, he feels that his heart is floating in the air, and he has no control over the emotions that are raging inside of him.
The second stanza is about the protagonist's yearning to see the person he is in love with. He says that he can't see her, but she is always in his thoughts. A wind chime or bell ringing in the distance reminded him of his mother every time he heard the sound of the wind chimes.
The third stanza talks about the beauty of nature, and how the protagonist feels that he is a part of it. He says that the wind is carrying him away to a beautiful place, where he can see the blue sky and the clouds. The person he loves is also with him in this journey, and he feels that they will accompany him the whole way.
The fourth stanza describes the intense emotions that the protagonist is feeling. He feels that his heart is overflowing with love and that he is drowning in the sea of emotions. As well as having a deep sense of purity and innocence, he also believes that his love is as pure as a dewdrop on a leaf.
In the final stanza, the protagonist again talks about the wind, and how it is carrying him away to a distant place. He feels that his soul is leaving his body and that he is becoming one with nature. It is also important to him that the person he loves is with him, in which case they will be united in their love for each other.
About the Author of the Song
The song "Mor Bhabonare Ki Haway Matalo" is a Bengali romantic song written and composed by Rabindranath Tagore, a renowned Indian poet, musician, and Nobel laureate. The song is from the collection of songs called "Banalata Sen."
Overall, the song "Mor Bhabonare Ki Haway Matalo" is a beautiful expression of love and the impact it has on our emotions and senses. The song describes the feeling of being lost in love and the beauty of nature that surrounds us, making it an eternal classic.
Film Title: Hawa Bodol
Song: Mor Bhabonare Ki Haway Matalo Lyrics
Artist: Saptarshi Mukherjee/Sahana Bajpei
Music Director: Rabindranath Tagore
Lyricist: Rabindranath Tagore
Filmstar Raima Sen/Parambrata Chatterjee/Rudranil Ghosh/Neha Panda/Others.
Director:  Parambrata Chatterjee