Tomaro Asime Lyrics | তোমার অসীমে | Rabindra Sangeet | Piya Chakraborty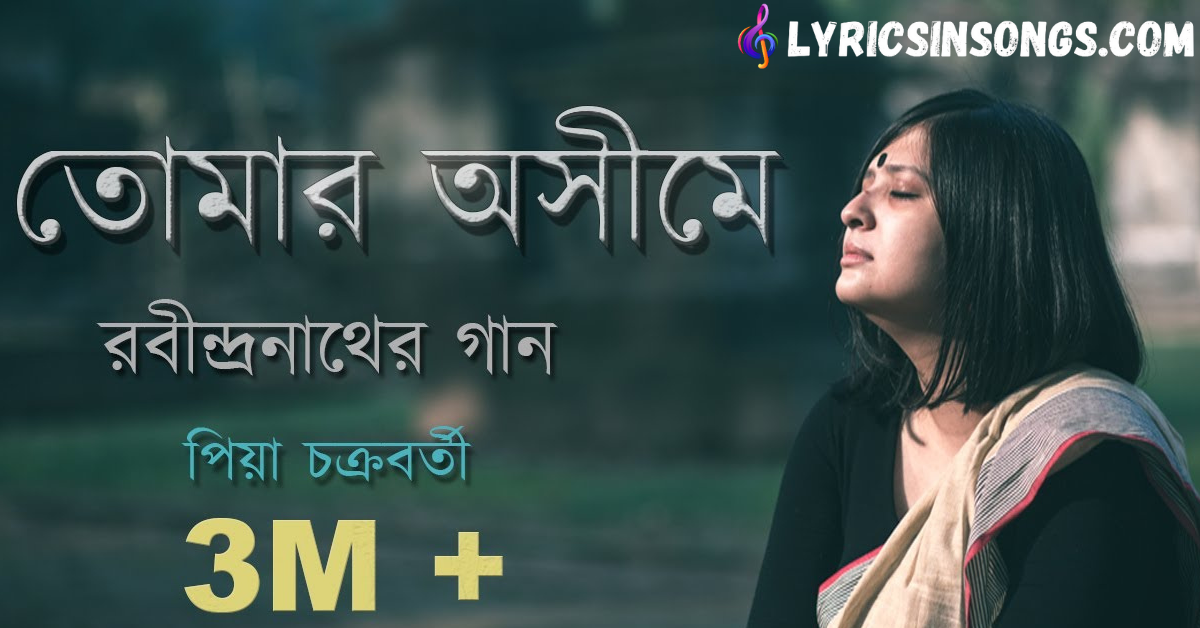 Tomaro Asime Lyrics
তোমার অসীমে প্রাণমন লয়ে
যত দূরে আমি ধাই,
কোথাও দুঃখ, কোথাও মৃত্যু,
কোথা বিচ্ছেদ নাই।
তোমার অসীমে প্রাণমন লয়ে
যত দূরে আমি ধাই।
মৃত্যু সে ধরে মৃত্যুর রূপ
দুঃখ হয় হে দুঃখের কূপ,
তোমা হতে যবে হইয়ে বিমুখ
আপনার পানে চাই।
তোমার অসীমে প্রাণমন লয়ে
যত দূরে আমি ধাই।
হে পূর্ণ তব চরণের কাছে
যাহা কিছু সব আছে, আছে, আছে,
নাই নাই ভয়, সে শুধু আমারই,
নিশিদিন কাঁদি তাই।
অন্তরগ্লানি সংসারভার
পলক ফেলিতে কোথা একাকার,
জীবনের মাঝে স্বরূপ তোমার
রাখিবারে যদি পাই।
তোমার অসীমে প্রাণমন লয়ে
যত দূরে আমি ধাই,
কোথাও দুঃখ, কোথাও মৃত্যু,
কোথা বিচ্ছেদ নাই।
তোমার অসীমে প্রাণমন লয়ে
যত দূরে আমি ধাই।
Meaning of Tomaro Asime Lyrics
The first stanza of the song describes the singer's journey towards hope. He says that hope is far away, but he continues to strive towards it, no matter how distant it may seem. He believes that no matter where he is, he cannot escape the pain and suffering of life, but hope gives him the strength to endure.
The second stanza talks about the inevitability of death and how it can be a source of pain and suffering. The singer says that death takes on the form of all our fears and sorrows, and it is something that we cannot avoid. However, by being close to hope, we can mitigate this suffering and find peace.
The third stanza of the poem speaks of the all embracing nature of hope in that it encompasses everything. There are many manifestations of hope in the world that the singer believes are manifestations of everything that exists in the world. He says that hope is what gives life meaning and purpose, and it is what enables us to face life's challenges with courage and resilience.
The fourth stanza talks about the importance of finding one's true self in the midst of all the chaos and uncertainty of life. The singer believes that by being close to hope, we can discover our true selves and find inner peace. There is an adage that tells us that if we are able to find our true selves, we can navigate the complexities of life with grace and ease.
About the Author of the Song
The Bengali song "Tomaro Asime" sang by Rabindranath Tagore is a beautiful tribute to hope and the power it has to sustain us through life's challenges. The lyrics are poetic and metaphorical, expressing the idea that hope is what keeps us going, even in the face of adversity.
Overall, "Tomaro Ashime" is a beautiful song about hope and the power it has to sustain us through life's challenges. It reminds us that even in the darkest of times, hope is always within our reach, and it can help us find meaning and purpose in life. Rabindranath Tagore's songs have been a favorite in all the Bengali houses.
Singer : Piya Chakraborty
Music & lyrics : Rabindranath Thakur
Arranged by Anupam Roy
Piano & programming : Nabarun Bose
Bass : Kaustav Biswas
Guitar : Rishabh Ray
Mixed & mastered by Shomi Chatterjee
Video credit : Shot & edited by Sujoy Chowdhury
These are some various versions and adaptations of song on platform like YouTube. These are some links off the songs that have been provided here :