Amar Bhindeshi Tara (আমার ভিনদেশী তারা) Lyrics | Antaheen | Anindya Chatterjee
আমার ভিনদেশী তারাএকা রাতেরি আকাশেতুমি বাজালে একতারাআমার চিলেকোঠার পাশেঠিক সন্ধ্যে নামার মুখেতোমার নাম ধরে কেউ ডাকেমুখ লুকিয়ে কার বুকেতোমার গল্পো বলো কাকে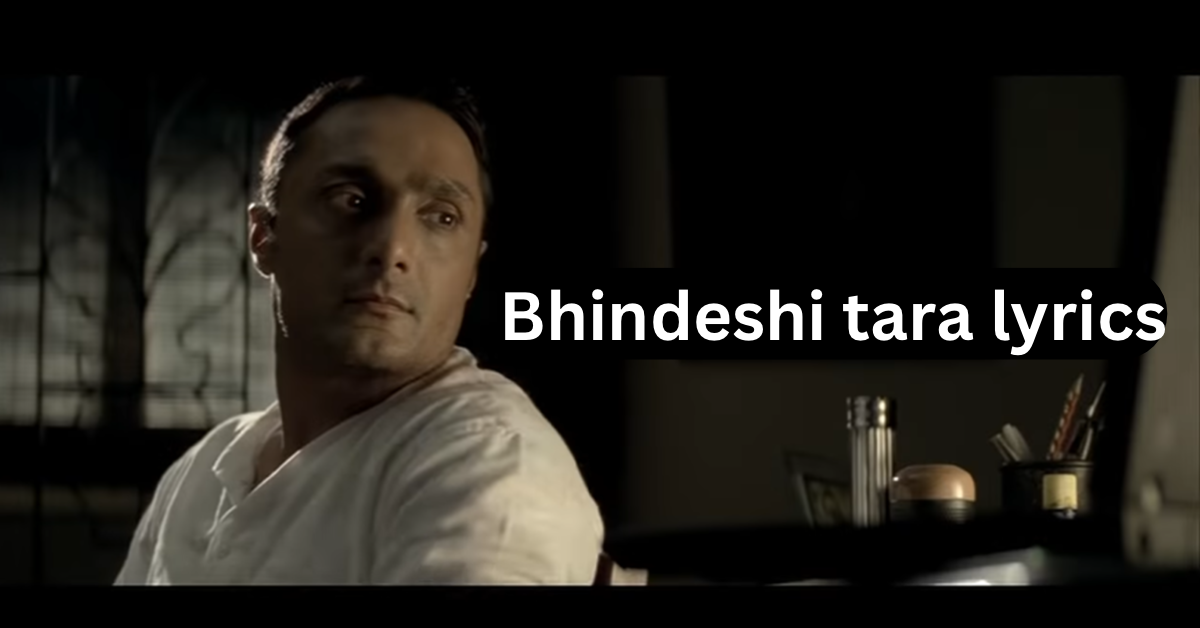 Bhindeshi Tara Lyrics
আমার ভিনদেশী তারা
একা রাতেরি আকাশে
তুমি বাজালে একতারা
আমার চিলেকোঠার পাশে
ঠিক সন্ধ্যে নামার মুখে
তোমার নাম ধরে কেউ ডাকে
মুখ লুকিয়ে কার বুকে
তোমার গল্পো বলো কাকে
আমার রাত জাগা তারা
তোমার অন্য পাড়ায় বাড়ী
আমার ভয় পাওয়া চেহারা
আমি আদতে আনাড়ী
আমার আকাশ দেখা ঘুড়ি
কিছু মিথ্যে বাহাদুরি (x2)
আমার চোখ বেধে দাও আলো
দাও শান্ত শীতল পাটি
তুমি মায়ের মতই ভালো
আমি একলাটি পথ হাটি
আমার বিচ্ছিরি এক তারা
তুমি নাও না কথা কানে
তোমার কিসের এতো তাড়া
সে রাস্তা পার হবে সাবধানে
তোমার গায় লাগেনা ধুলো
আমার দু'মুঠো চাল-চুলো (x2)
রাখো শরীরে হাত যদি
আর জল মাখো দুই হাতে
প্লীজ ঘুম হয়ে যাও চোখে
আমার মন খারাপের রাতে
আমার রাতজাগা তারা
তোমার আকাশ ছোয়া বাড়ি (x2)
আমি পাইনা ছুঁতে তোমায়
আমার একলা লাগে ভারী... (x2)
Meaning of the Song Amar Bhindeshi Tara
The song discusses the wonder of the night sky, loneliness, and the ability of music to uplift the spirit. The opening stanza depicts a solitary individual sitting by a window, gazing up at the sky while taking in the sounds of music being performed. The person wants someone to visit and chat to them since they are lonely. The person they are thinking about is being called out, but they are too shy to stand forward and identify themselves.
The subject's dread and their lack of bravery are discussed in the second verse. They discuss how by gazing up at the stars in the sky, they are attempting to find bravery and hope. They pray for guidance to assist them find their way forward and for light to be shone on their road.
The third stanza describes how the person is feeling disoriented and alone and how they are in need of direction. They liken themselves to an elephant stumbling through the jungle in search of a path. They beg the person they are seeing to be their leader and to lead them in the right direction.
The fourth verse discusses how music has the ability to soothe the spirit and calm an anxious mind. In order to feel peaceful and comfortable, the person is requesting that the music be played quietly. They desire the ability to close their eyes and temporarily forget their problems.
About the Song Amar Bhindeshi Tara
Bhindeshi Tara is an absolutely mesmerizing song sung by Anindya Chattopadhyay from the Bengali movie Antaheen (2009) which is directed by Aniruddha Roy Chowdhury.Music composed by Shantanu Moitra.Chandril Bhattacharya came up with the lyrics.Starring Radhika Apte, Rahul Bose, Mita Vashisth, Aparna Sen,Sharmila Tagore. This song is also performed by the Chandrobindoo band from the album Chaw.
The person's need for company to make them feel less lonely is discussed in the last verse. To make them feel comfortable and secure, they are hoping that the person they are thinking about would approach them and take their hands. They need consolation and certainty to get them through a trying night.
The song, taken as a whole, is a lovely and poetic ode to the magic of music, the splendor of the night sky, and the loneliness of the human condition. It speaks to our shared desire for affection, solace, and connection and serves as a reminder of the therapeutic value of both art and music.
These are some various versions and adaptations of his songs on platform like YouTube. These are some links off the songs that have been provided here :