Sei Je Holud Pakhi (সেই যে হলুদ পাখি) Lyrics | Cactus Band
সেই যে হলুদ পাখিবসে জামরুল গাছের ডালেকরতো ডাকাডাকিআমার শৈশবের সকালে (x2)একদিন গেল উড়েজানি না কোন সুদুরে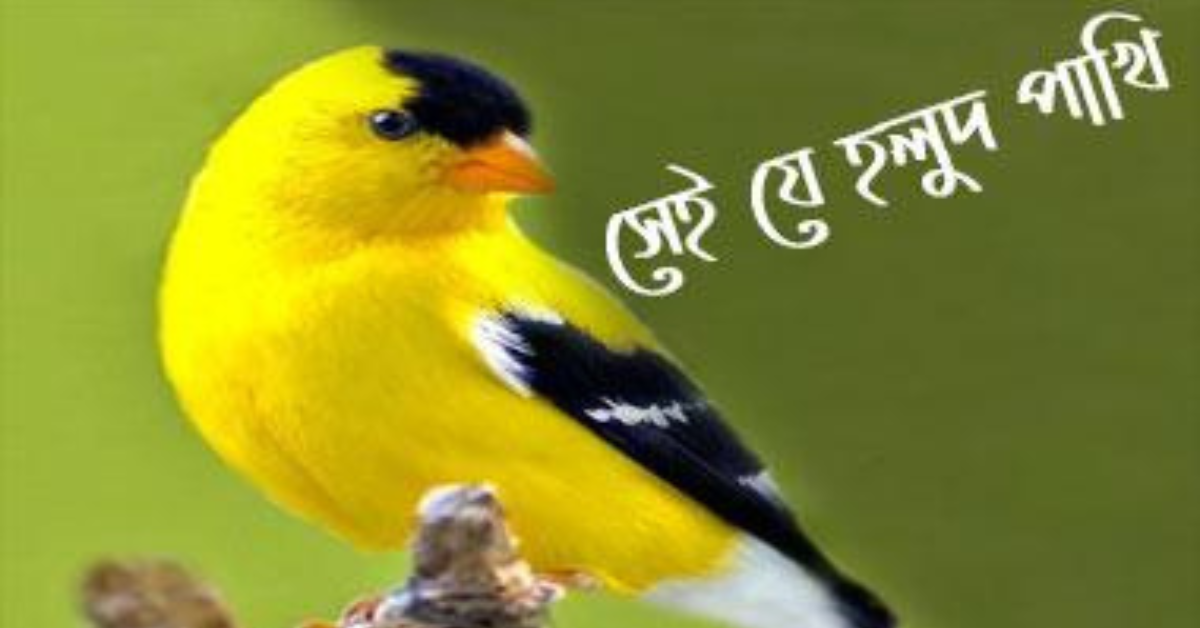 Sei Je Holud Pakhi Lyrics

সেই যে হলুদ পাখি
বসে জামরুল গাছের ডালে
করতো ডাকাডাকি
আমার শৈশবের সকালে (x2)
একদিন গেল উড়ে
জানি না কোন সুদুরে
ফিরবে না সেকি ফিরবে না
ফিরবে না আর কোনদিন
ফিরবে না সেকি ফিরবে না
ফিরবে না আর কোনদিন
বুড়ো মাঝির নৌকায় বসে সারাটা দুপুর
যুবরাজের ঘোড়া আর রাজকণ্যার নুপুর (x2)
চলে গেল স্রোতে ভেসে
জানি না কোন দূর দেশে
ফিরবে না সেকি ফিরবে না
ফিরবে না আর কোন দিন
ফিরবে না সেকি ফিরবে না
ফিরবে না আর কোন দিন
ভাঙা মন্দিরেতে গুপ্ত ধনের খোঁজ
দূর সীমানার হাতছানি রোজ রোজ (x2)
হারানো সে সোনালী দিন
সবুজ ইচ্ছা স্বপ্ন রঙিন
ফিরবে না সে কি ফিরবে না
ফিরবে না আর কোন দিন (x6)
Album Title:  Cactus - Bengali Band Songs
Artist:  Cactus
Music Director: Cactus
Lyricist:  Cactus
Meaning of the Song Sei Je Holud Pakhi
"Sei Je Holud Pakhi",  which means "The Yellow Bird That Was," is a well-known Bengali song. The song expresses desire and sorrow for childhood memories. In the song, a yellow bird is described as making noises while perched on a Jamrul wood when the singer was a youngster. The vocalist is unaware of the bird's current location. The song's lyrics hint that the bird may have left for a faraway place and may never come back. The goddess of the kingdom and an elderly sailor go on a boat excursion in the mid of the day, according to the song. They may have moved far, according to the song's lyrics, and the vocalist is unsure of their exact location. The song continues with the vocalist remembering a missed bright day and looking for buried wealth in a crumbling temple. The emotions of fond childhood recollections and nostalgia are masterfully captured in the song.
All things considered, "Sei Je Holud Pakhi" is a touching and nostalgic song that arouses feelings of love, desire, and loss.
About the Song Sei Je Holud Pakhi
Pakhi Sei Je Holud From the Cactus Bangla Band. Siddhartha Sankar Ray sings this song. A native of Kolkata, Sidhu is an Indian singer, lyricist, composer, playback writer, and actor. He is a founding member of the Bangla Rock movement. Sidhu quit his dream job as a doctor to start the band Cactus. The group introduced a fresh musical style for Bengali rock bands to the Bengali music arena. He and his band made their Tollywood (Bengali film) debut in 2013 by writing the songs for Nil Nirjane. They often took home the Mirchi Music Awards Bangla. With numbers like Brishti, oooh Ma! and Icchamati this album portrayed psychedelia in Bengali music for the first time. Halud pakhi, on the other hand, created a long-lasting sensation in the contemporary Bengali music scene with its nostalgic feel being perfectly accompanied by Shudhu Tumi Ele Na and Amra Bhishon Eka complementing the overall mood of the album.
Apart from band music, Ray has many singles under his name.As a playback artist, he has also sung for many films, among them Esho Bondhu from the film Uma, which is very famous. Songs like Holud Paakhi have become a household name. This Bengali Song Lyrics released in 2002.
These are some various versions, covers and adaptations of his songs on platform like YouTube. These are some links off the songs that have been provided here :