Jani na Keno Ta Jani na Lyrics (জানি না, কেন জানি না ) | Challenge | Nachiketa Chakraborty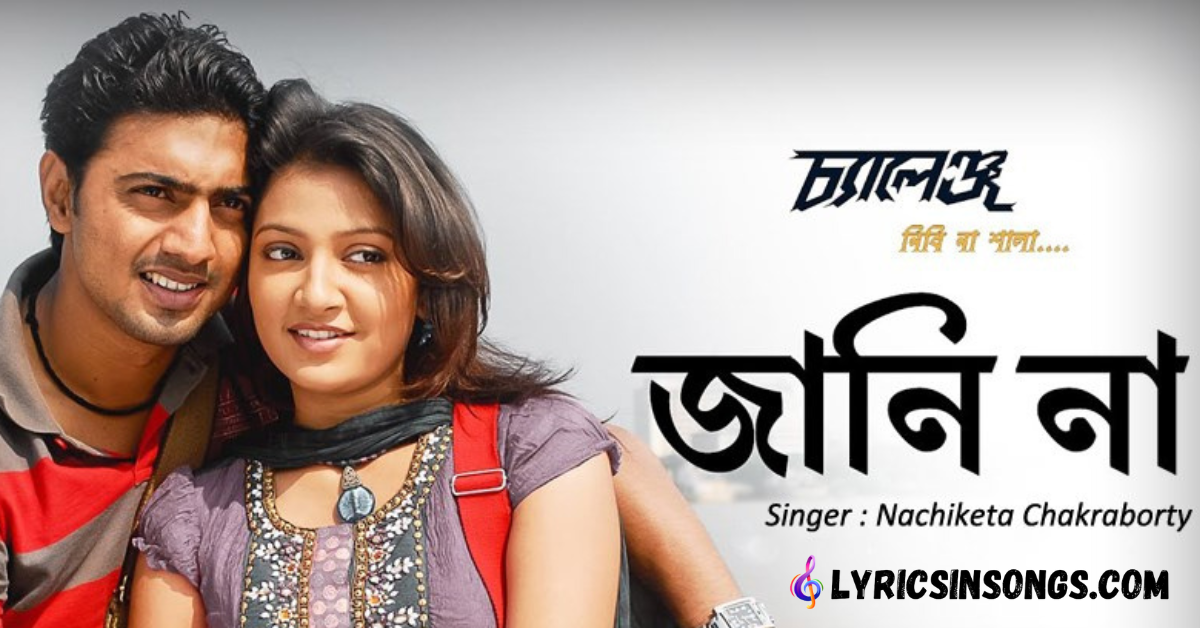 Jani Na Keno Ta Jani Na Lyrics
জানি না... জানি না.. জানি না
দূরে দূরে মেঘ যাচ্ছে পুড়ে
মন মেললো স্মৃতি দু'ডানায়
জানি না, কেন তা জানি না,
জানি না, কেন তা জানি না।
জানি না... জানি না.. জানি না।
ক্ষয়ে ক্ষয়ে যাওয়া এ সময়
মেনে নেয় তার পরাজয়,
জীবন পড়ে ধুলোতে, হারিয়ে সঞ্চয়।
যার কথা ভাসে, মেঘলা বাতাসে
তবুও সে দূরে তা মানি না,
জানি না, কেন তা জানি না,
জানি না, কেন তা জানি না,
জানি না, কেন জানি না।
রাত বেড়ে যায় ধীর পায়
বাতাসেরা যেন অসহায়,
শুকনো পাতার নুপুরে
কে যেন ডেকে যায়।
যার উষ্ণ আঁচে, ভালোবাসা বাঁচে
সে হৃদয় ভাঙ্গে তা মানি না,
জানি না, কেন তা জানি না
জানি না, কেন তা জানি না।
জানি না, কেন জানি না।
Meaning of the Song
The song you have shared is a Bengali song named "Jani Na" sung by the popular Bangladeshi singer, Kumar Bishwajit. It is a melancholic song that speaks of a person's inability to comprehend certain emotions and situations in life. The song starts with the phrase "Jani na, jani na, jani na" which means "I don't know, I don't know, I don't know" in English, implying the person's confusion and lack of understanding. The first verse talks about how the clouds are drifting away in the distance, but the memories still linger in the person's mind. The person is unable to comprehend why this is happening.
The second verse talks about the passage of time and how it slowly erodes everything away. The person feels defeated and accepts their defeat. Life feels like it's slipping away, and the person is losing everything they've saved up. The third verse talks about how the night slowly creeps in, and the person feels helpless against the elements. The person feels like they are slowly losing themselves, and their heart is breaking apart. Overall, the song speaks of a person's struggle to understand their emotions and the world around them. It highlights the feeling of helplessness and confusion that can come with certain situations in life.
About the Author of the Song
Nachiketa Chakrabort  is an accomplished singer, songwriter, composer, and musician from Kolkata, West Bengal, India. Nachiketa is renowned for his distinctive singing and composing style, which combines elements of folk music with more modern ones.
For his contributions to Bengali music, Nachiketa has received numerous honours and prizes, including the renowned Sangeet Samman award from the West Bengali government. He is recognised by many as one of the most important and well-liked musicians in the Bengali music scene.
Janina is a Bengali language song and is sung by Nachiketa. Janina, from the album Challenge, was released in the year 2009. Dev and Subhashree Ganguly are featured. Bengali and Jeet Ganguly's compositions Nachiketa Chakraborty is the author of the lyrics to the Bengali song Jani Na Keno Ta Jani Na.
Song : Janina Keno Ta Janina
Movie Name : Challenge (2009)
Singer : Nachiketa Chakraborty
Music Composer : Jeet Gannguli
Directed by : Raj Chakraborty
Produced by : Shree Venkatesh Films
These are some various versions and adaptations of his songs on platform like YouTube. These are some links off the songs that have been provided here :