Thik Emon Ebhabe (ঠিক এমন এভাবে) Lyrics | Arijit Singh | Gangster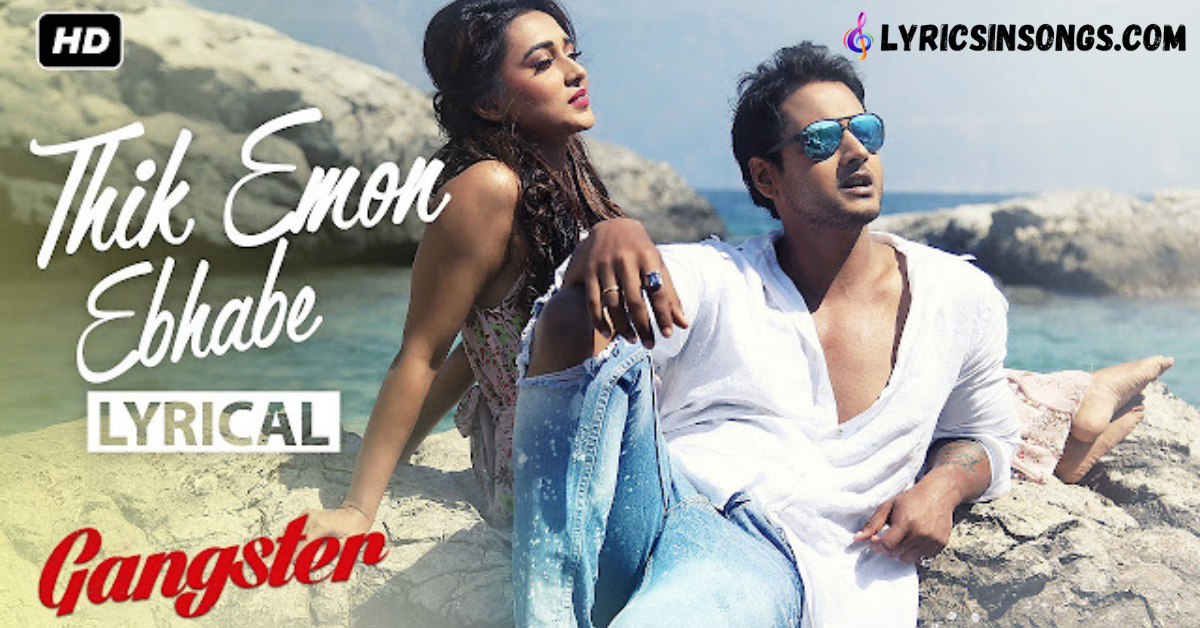 Thik Emon Ebhabe Lyrics
ঠিক এমন এভাবে,
তুই থেকে যা স্বভাবে।
আমি বুঝেছি ক্ষতি নেই,
আর তুই ছাড়া গতি নেই।
ছুঁয়ে দে আঙুল, ফুটে যাবে ফুল
ভিজে যাবে গা।
কথা দেওয়া থাক,
গেলে যাবি চোখের বাইরে না (x2)
তোরই মতো কোন একটা কেউ,
কথা দিয়ে যায়, ছায়া হয়ে যায়।
তোরই মতো কোন একটা ঢেউ,
ভাসিয়ে আমায়, দূরে নিয়ে যায়।
ছুঁয়ে দে আঙুল, ফুটে যাবে ফুল
ভিজে যাবে গা।
কথা দেওয়া থাক,
গেলে যাবি চোখের বাইরে না (x2)
আটকে তোকে রাখতে চাইছি খুব,
সকালে আমার, বিকেলে আমার
তুই ডাক না দিলে থাকবো আমি চুপ,
দিনেতে আমার, দুপুরে আমার।
ঠিক এমন এভাবে,
তুই থেকে যা স্বভাবে
আমি বুঝেছি ক্ষতি নেই,
আর তুই ছাড়া গতি নেই।
ছুঁয়ে দে আঙুল, ফুটে যাবে ফুল
ভিজে যাবে গা।
কথা দেওয়া থাক,
গেলে যাবি চোখের বাইরে না (x2)
Meaning of Thik Emon Ebhabe Song
The song is a Bengali love song that expresses the strong bond between two people in a relationship. The lyrics convey the message that the singer understands and appreciates their partner's nature, and that their absence would leave a void in their life. The singer urges their partner to stay close and continue to share their thoughts, assuring them that they need not worry about any harm or loss.
The phrase "ছুঁয়ে দে আঙুল, ফুটে যাবে ফুল, ভিজে যাবে গা" translates to "touch the finger and the flower will bloom, the knee will get wet." This metaphorical imagery suggests that the slightest touch or action can have a profound impact on the relationship.
The song also highlights the importance of communication in a relationship, urging the partner to keep talking and sharing their feelings. The singer wants to be with their partner throughout the day, from morning until evening, and reassures them that they will remain silent if the partner does not call out to them. Overall, the song portrays the deep connection and emotional intimacy that can exist between two people in a loving relationship.
About the Author of the Song Thik Emon Ebhabe
A well-known music composer in the Bengali cinema business is Arindom Chatterjee. He has written the music for a number of popular Bengali films, including "Gangster," "Amazon Obhijaan," "Asur," "Haami," and numerous others. Bengal has a sizable fan base for Chatterjee, who is recognised as one of the best music composers in the business. People of all ages adore his music, and he never stops writing fresh, cutting-edge songs that resonate with listeners of all ages.
The Bengali song "Thik Emon Ebhabe" was written by Arindom Chatterjee and performed by Arijit Singh. The song was incorporated into the 2016 film "Gangster," which was released. Yash Dasgupta, Mimi Chakraborty, Kharaj Mukherjee, Biswanath Basu, and others are among the cast members. The song was well-received and quickly became popular with the audience.
More than 120 million people have viewed the song's music video on YouTube, and both the song's melody and lyrics are well-liked by listeners. One of the key contributing causes to the movie's commercial success was the song's popularity, which served to advertise the movie.  The audience has generally responded favourably to "Thik Emon Ebhabe," which is still a well-liked Bengali song.
Film: Gangster
Starring: Yash Dasgupta, Mimi Chakraborty & Others
Presenter : Shrikant Mohta
Produced by : SVF Entertainment Pvt. Ltd
Direction: Birsa Dasgupta Story
Screenplay & Dialogue: Shweta Bharadwaj Sharma, Manish Sharma Additional Dialogues: Debapratim Dasgupta
D.O.P: Shubhankar Bhar
Music: Arindom
Singer: Arijit Singh
Lyrics: Prasen
Edit: Subho Pramanik
These are some various versions and adaptations of his songs on platform like YouTube. These are some links off the songs that have been provided here :